We're excited to be celebrating our 20th anniversary at South by Southwest (SXSW) this year by hosting the SXSW Impact #GetInTheArena lounge, dedicated to both the work we our doing at the Foundation, as well as the great work of our partners and innovators in the philanthropy space to push the sector, democratize giving and encourage turning interest in social causes into action. Throughout the lounge, we're employing some innovative technologies as well as featuring how taking creative approaches to technology has made some of our work this year possible.
When first entering the SXGood #GetInTheArena lounge, visitors will see an installation dedicated to our #FacesofFounders campaign. Launch in the fall of 2016, the #FacesofFounders campaign was designed to celebrate all supporters of inclusive entrepreneurship through a photo submission portal and hosted a crowdsourced competition to feature five entrepreneurship stories on Fast Company. Technology played a huge role in both the photo and story capture calls to action. We built the #FacesofFounders campaign website to capture photos from visitors, allowing them to choose their own custom filters and overlays, and to allow visitors to share their stories of their own entrepreneurial journeys through a series of prompts and questions.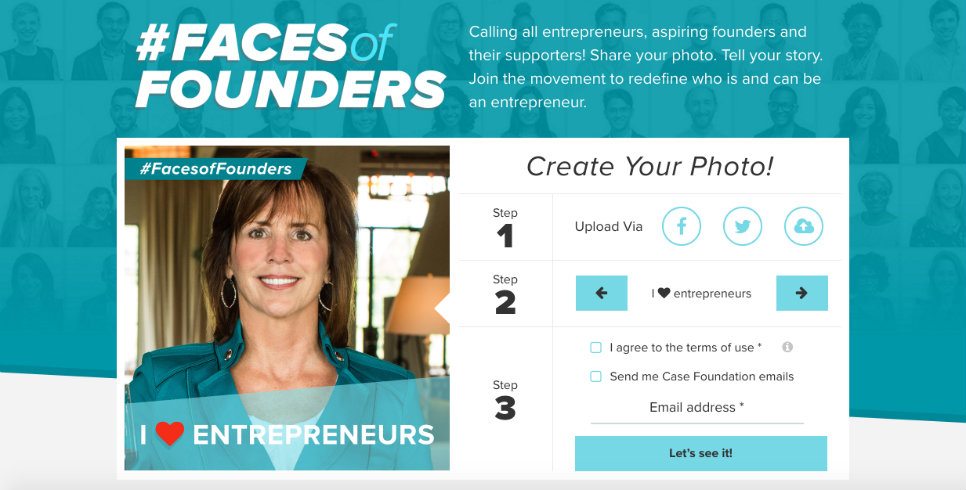 Later, we used those story submissions and a custom judging platform built into the site to find the five entrepreneurial stories we featured on Fast Company. The ability for visitors to tell their own story within the site allowed us to rapidly gather a critical mass of stories, and the back-end judging platform provided us a streamlined platform for finding the best stories to feature.
In fact, we're so excited about the judging platform that powered #FacesofFounders that we will be releasing it as an open source platform on GitHub later this year. On GitHub, the tool will be available for both groups looking to leverage the tool for their own campaign or initiative and to developers looking to contribute features and bugfixes.
#FacesofFounders recently debuted a Medium Publication dedicated to discussions about entrepreneurship, race, place and gender. The publication will feature thought provoking articles on leveling the entrepreneurship playing field along with profiles of dynamic, diverse entrepreneurs who stand out for their pioneering work. We look forward to exploring ways that Medium and other technology platforms can continue to enforce and enhance our inclusive entrepreneurship work.
As visitors walk back through the space, they'll encounter one of our first partner stations: Oculus VR for Good. Virtual reality (VR), particularly its applications for social good, will be one of the most discussed technologies at SXSW this year, and at our lounge, visitors will be able to experience how Oculus is leading that effort.
Our extensive research into Millennials tells us that building passion for a cause is paramount to its success, and that perpetuates a need to continually find innovative and novel ways to tell stories that attract audiences. VR is that medium right now because of the immersive nature of the experience— the ability to transport a viewer to a totally different environment gives storytellers and experience creators the ability to give users an entirely different individual's experience. What is next for the VR, and what I expect to see at SXSW, are innovations around multi-user and conversational experiences. Up to now, the social good space has known VR largely for the breathtaking VR documentaries such as Clouds of Sidra. The content produced is immersive, moving and inspirational, but right now it is just a one-way communication. To even better arm social good movements, it would be amazing to see how we can incorporate more than one user in a VR experience and allow those users to communicate.
Moving to the next partner station, visitors will experience a station run by our friends at GoodWorld, a donation platform that allows individuals to give on social media by simply using a hashtag and the handle of the organization they want to give to. GoodWorld's platform then takes care of the rest. We're excited by this technology because it practically obliterates the barrier to entry for giving by moving the donation process from within a website to social media, where potential donors interact everyday—something that is essential to digitally building strong movements.
This next area in the lounge will feature some technology that we are very proud of. It will be a sneak-peek of our Impact Investing Network Map. The Network Map shows the connections between investors, companies and funds within impact investing, a preliminary data visualization of the investors and companies in the impact investing space. Sourcing data from APIs on ImpactSpace and CrunchBase, the Network Map builds a captivating graph-style visualization of the investment connections between these entities, based on our existing dataset. Users will be able to explore companies, investors, impact objectives, industries and other facets to learn more about the potential for this exciting space.
Powering this site are a few technologies we have not used in the past including the visualization library SigmaJS and the NoSQL databsse Neo4J. Graph data, the term for the type of information displayed in the Network Map, can scale poorly on both the frontend and backend, but the unique combination of these pieces of software allows the Network Map to effortlessly store, serve and render the thousands of data points provided by our partners.
#GetInTheArena StoryScope
At the end of visitors' experience in our lounge, they'll encounter the last piece of technology we're excited for—the FoxTales StoryScope. It's an installation that makes 360 video accessible to everyone. Visitors to our space will be able to experience this first hand and "get in the area" with their own StoryScope video. After the StoryScope captures the video, it emails it to the participants who can then share it on social media. The entire experience gives visitors a creative new way to engage with their social networks and experience an organization's brand. Participants walk away with a very tangible reminder of their commitment to #GetInTheArena and turn their interest in social good into action, and it serves as a public way of sharing that commitment with others and building momentum around the causes they care about.
We're excited to attend SXSW every year to not only show the work we've been doing, but also to gather ideas and collaborate with technologists from all over. SXSW is famous for the celebrities it attracts, but we also know it as a source of inspiration and the genesis of totally new innovations that continually evolve digital strategies and tactics around giving. We'll be sharing some of those ideas in a post after SXSW.