This Spotlight is authored by guest writer Caitlin Kelly as part of a special blog series by the Case Foundation featuring Be Fearless stories from the field. Follow along with us as we meet people and learn about organizations that are taking risks, being bold and failing forward in their efforts to create transformative change in the social sector.
Last year, a number of well-known tech-focused companies released information about their employees that relates specifically to race and gender. The results shone a light on the deeply rooted challenges this sector faces when it comes to diversity. Breaking through those obstacles remains a challenge for women and minorities in particular—one that the Kapor Center for Social Impact (Kapor Center), based in Oakland, California, is boldly tackling every day.
The Kapor Center wears its mission on its sleeve: "We believe that when the community of tech leaders reflects the diversity of the United States, tech will play an integral role in closing gaps and disparities that exist in this country," the organization's website states. "Via proven methods from the for-profit and nonprofit fields, we work in partnership with a diverse set of stakeholders to maximize social impact." Over the years, the Kapor Center has focused its efforts on audacious, "gap-closing" endeavors. The "gap" in these cases refers to a number of challenges facing society today—gaps in academic achievement, access to health care and economic opportunity, as well as gaps in income, information and social mobility.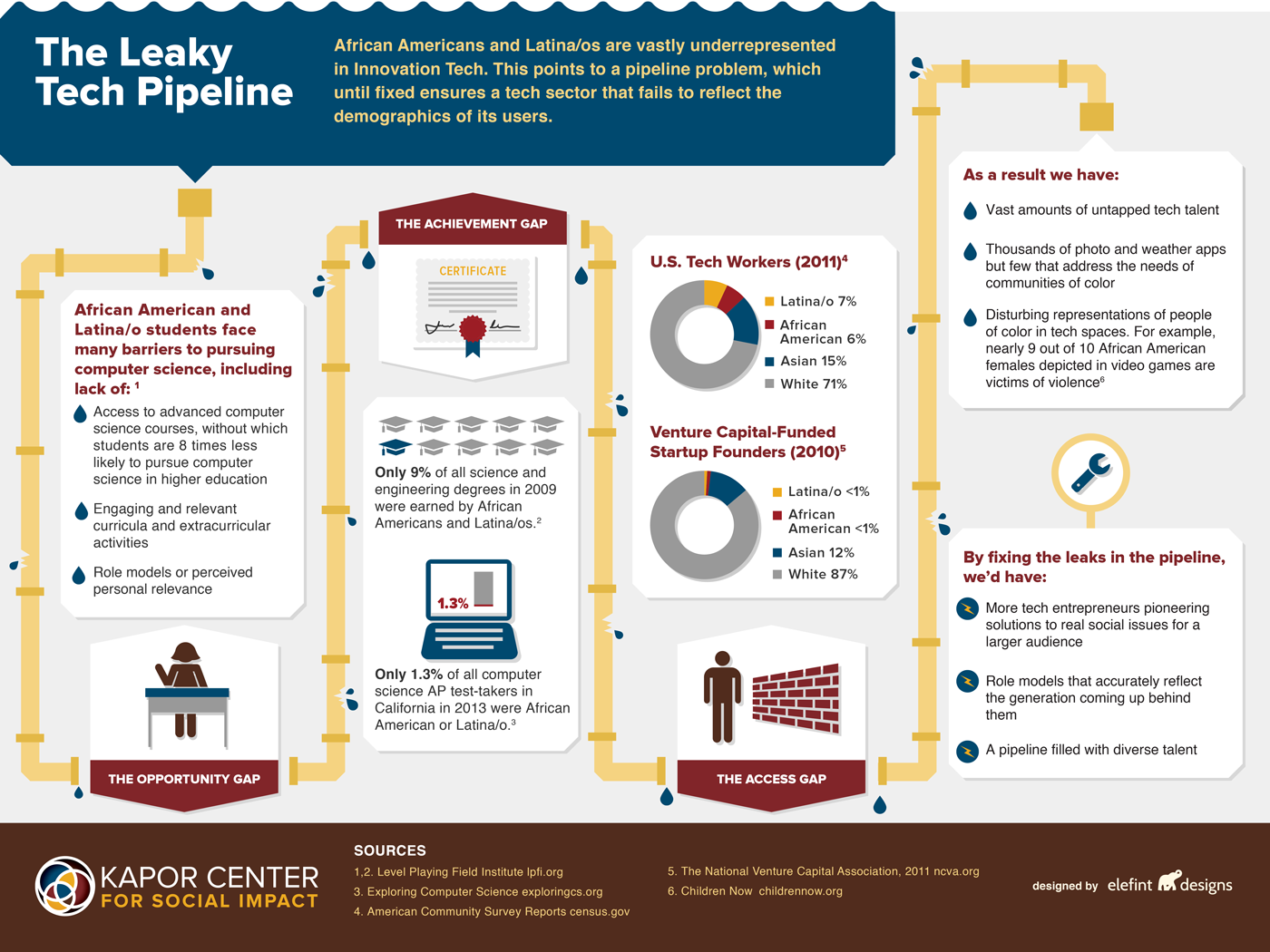 To achieve these lofty goals, the Kapor Center funds a variety of groundbreaking initiatives and entrepreneurs aimed at stopping what it calls the Leaky Tech Pipeline, which creates roadblocks for African Americans and other underrepresented communities of color in the tech-innovation fields. Currently, African Americans account for less than 3 percent of programmers, developers, engineers and other tech-focused talent. As a result, although African Americans are generally early adopters and users of technology, their intellectual capital is almost nonexistent in the development of new apps and tech systems, leaving in question how germane the products are to their daily lives. To address this gap, the Kapor Center has initiated several interventions, including efforts to provide greater access to educational opportunities for African American and Latino students.
One such intervention has emerged from a program called the College Bound Brotherhood, which supports college and 21st-century career readiness for Bay Area African American males. Created in 2008, the Brotherhood is the first network in the United States to focus on African American male students and connect them to college readiness programs and local resources. Using a Networked Improvement Community model—in which organizations, parents and school districts learn from, support and build with one another to become more solution-oriented toward issues specific to their community—the Brotherhood aims to place 3,000 African American males on a college-bound and college-completion track annually.
Justin Davis, a former professional basketball player who serves as a Program Officer for the Kapor Center, joined the organization in order to "pay it forward" after benefiting from the opportunities that similar funded programs offered him as a young male of color, including college prep services. Davis attended Stanford University on an athletic scholarship, studying communications, then played with the Golden State Warriors.
"In 2008, foundations weren't investing heavily in black males' achievement or black-male-centric initiatives," Davis notes. "We would like to think we were seeing ahead of the curve of what was a pressing issue needing philanthropic support." Davis says that as a result of the Kapor Center's early investments in black males, it has been on the front lines of a larger movement, providing not only financial resources, but also "our tech inclusion lens" to such initiatives as President Obama's My Brother's Keeper, the Executive Alliance to Expand Opportunities for Boys and Men of Color, and the California Executives' Alliance to Expand Opportunities for Boys and Men of Color.
Davis embraces a bold approach when advancing the work of the Kapor Center. Fearlessness to him means "being unapologetic about serving underserved communities, especially black and Latino, especially with regard to technology." Noting that the tech industry is "highly homogeneous and not truly reflective of America in general," Davis says that "our priority and focus is on creating a more diverse tech sector, so we made several investments in community-based organizations and nonprofits serving these groups. Being fearless means we're very vocal and outspoken about this being an issue. These doors are not welcoming for people of color! And even for the few people who get in, is there a culture that retains them?"
Davis is an athlete at heart, and his competitive nature drives his work. "How do you get better at philanthropy? How do you get better at serving communities of color?" These are key questions that he challenges himself and his team to consider. "I'm always thinking about ways to improve our work and our organization."
Davis asks, "How can we make the best investments that snowball and create a tech sector that welcomes these men? Our challenge has been trying to understand where to make those investments, as there are no blueprints for how to do this through grant-making. We've been making investments outside our comfort zone."
Reflecting the skill set he developed while working with the Kapor Center, Davis has gone on to rebrand the College Bound Brotherhood, helping it to focus solely on diversifying the world of tech. That meant cutting off funding to some grantees while gambling on new and untested investments. "As part of our pivot to focus exclusively on tech, we parted with some of our long-term grant partners," Davis says. "In doing so, an opportunity presented itself to support a number of nonprofits who weren't receiving much interest or funding for their work aimed at exposing communities of color to coding."
Without such focused support, Davis adds, the effects of a growing tech sector on black and Latino communities were mainly "displacement, career unreadiness and gentrification." The Brotherhood's investment strategy paid off: "Two to three years later, we had people so thankful for [our] taking the risk to help them grow and develop."
While the Kapor Center is strengthening the tech pipeline for people of color, Davis is quick to point out that "there are many entry points—from a novice coder to successful entrepreneur." He notes that not all students in the College Bound Brotherhood have been introduced to coding, but like many Americans they're "connected at the hip to technology via cell phones or gaming consoles. We simply want to expose these young men to exactly where that technology comes from and inform them that there is a lucrative career available to them if they're interested. We aim to build meaningful relationships with tech companies so they remain cognizant of the importance of having multiple doors through which talent of color can comfortably walk."
The Brotherhood collaborates with more than 40 agencies and organizations, each of which contributes to the network model. Much of the success of the program is due to the engagement of unlikely partners. "They're the big tech firms just down the road. We're knocking on the door and getting into those closed walls," Davis explains.
The "tech inclusion" full court press is working, he says with satisfaction. "Oh yes! We're sitting down now with C-suite staff and doing workshops on this issue in front of hundreds and hundreds of their staff," Davis says. "These conversations have paid dividends in the sense that we are no longer knocking on the doors (as much), but are now often answering the knock on our door."
Feeling inspired? If you're ready to begin your own Be Fearless journey start by downloading our free Be Fearless Action Guide and Case Studies.