"After a long Great Recession hangover, entrepreneurship is finally rebounding in the United States. Entrepreneurs are driving a resurgence of business activity in America." – Kauffman Foundation "Zero Barriers" Report
The Kauffman Foundation recently released their "State of Entrepreneurship 2017" Report noting a resurgence of entrepreneurship in the United States after a long-term decline. The report sets out several areas of growth key to ensuring entrepreneurship continues as an economic driver for all, first of which is a focus on women and people of color. The Case Foundation's "inclusive entrepreneurship" movement focuses directly on democratizing entrepreneurship, through collaborations and learning opportunities with ecosystems and founders committed to reducing barriers to entrepreneurship faced by diverse entrepreneurs, and scale local pilots into national programs serving women and entrepreneurs of color. As we are on the same path, we are proud to have a partner like the Kauffman Foundation alongside us in the movement for inclusive entrepreneurship. At the core of our movement building philosophy is partnerships. We look to combine our strengths with those of our partners in the field to accelerate and catalyze progress toward a common goal. In the entrepreneurship arena, the Kauffman Foundation has long been one of those partners. From our early partnership in Startup America Partnership to today's on bringing intentionality to leveling the playing field for all entrepreneurs through their Zero Barriers initiative.
Created with Ewing Marion Kauffman's own entrepreneurial values at their core, the Kauffman Foundation has been a champion in fostering entrepreneurial communities and expanding entrepreneurship education programs in startups across the country. At the 8th Annual State of Entrepreneurship Address in DC on February 16, Kauffman President and CEO Wendy Guillies discussed how entrepreneurship has evolved, outlining current trends, barriers and opportunities for growth. The annual address was structured around the release of a new Kauffman Foundation report, highlighting three mega trends that are redefining the future of entrepreneurship in the U.S. However, the event and the structure of this report are not merely an assessment of the entrepreneurship field right now; rather, the Kauffman Foundation used this report to launch a new focus and dedication to their entrepreneurship work. The three mega trends from the report reflect changes in demographics, geographies, and approaches in entrepreneurship that Kauffman articulates as vital to address in their work and the work of others in this space. Identifying the gaps within each mega trend, the report serves as a strategic roadmap for engagement and a call to action and paves the way for the new "Zero Barriers to Startup" Initiative—a collaborative, nationwide effort to remove traditional barriers to entry for startups and empower entrepreneurs to pursue innovative ideas.
Mega Trend 1: New Demographics of Entrepreneurship
The entrepreneurial ecosystem is expanding and evolving, yet opportunity and empowerment divides across key demographics—particularly women and communities of color—have prevented entrepreneurship from being truly inclusive. While more than half of the U.S. population will be from communities of color by 2050, this trend is not accurately reflected in today's composition of entrepreneurs. Historically marginalized and underrepresented communities often face higher barriers to entry, including lack of access to and cost of capital, which have implications on business profitability and opportunities to achieve scale. The report brings valuable data to this space, indicating that the average size of mature, non-minority-owned businesses is valued at $2.3 million in annual revenue, while those of similar size and growth stage owned by minorities are only valued at $1.6 million. Additionally, the entrepreneurship diversity gap comes at significant economic costs—if minority-owned businesses grew at the same rate as those of non-minorities, the U.S. would have more than one million additional employer businesses and as much as 9.5 million new jobs. Through initiatives like "Zero Barriers" and ongoing grants to women and minority entrepreneurs, the Kauffman Foundation joins the Case Foundation and the inclusive entrepreneurship movement to level the playing field and promote innovation across demographics.
Mega Trend 2: New Map of Entrepreneurship
Beyond the traditional hubs of the Silicon Valley and Boston, emerging startup ecosystems are forming across the country, particularly in mid-size metro areas. As we have seen through the Forward Cities collaborative in Cleveland, Detroit, Durham and New Orleans, innovations in technology and innovative financing models have unlocked new sources of capital and created pathways for entrepreneurs to scale their businesses. However, the entrepreneurial landscape is still a geographic patchwork—pockets of growth are largely concentrated in urban areas, while rural communities have experienced a drop in startup activity from 20 percent in the 1980s, to 12.2 percent today. To mend the urban-rural divide and promote geographic diversity, Kauffman Foundation's "New Map" initiatives will focus on empowering entrepreneurs at the local-level and addressing the barriers to entrepreneurial growth among rural communities. We look forward to sharing the lessons we have learned through Forward Cities and the joint lessons of Startup America Partnership to ensure that entrepreneurs from across America have the opportunity to contribute toward America's progress.
Mega Trend 3: New Nature of Entrepreneurship
The third mega trend informing the current state of entrepreneurship is tied to the evolving nature of the industry itself, and the unique role that technology has played in redefining the field. Leveraging technology in business development has spurred entrepreneurial innovation, created new markets in traditional industries and aligned financial and social incentives in new ways. While technological advancements make entrepreneurship more widely accessible, it has also had the dual effect of slowing net job creation across sectors. Kauffman shared an interesting snapshot comparison to bring this point home: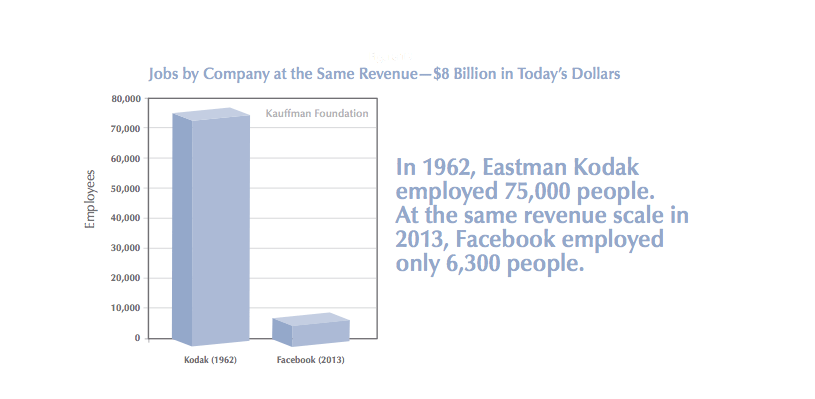 Technological disruption and increased automation has reduced demand for human capital, which could accelerate the growth of startups and early stage companies. At the same time, technology is only as powerful as those who invest in, adapt and successfully integrate it into their business practices. Moving in lockstep with advancements in technology, Kauffman is launching new educational models for entrepreneurship and identifying new opportunities for job creation.
While often reports can raise as many questions as they do solutions, the Kauffman Foundation's Zero Barriers response will provide valuable resources and support for entrepreneurs and ecosystem builders across the country. The mega trends that the Kauffman Foundation identifies, particularly the new demographics and new map, are ones that the Case Foundation is specifically targeting through our inclusive entrepreneurship movement. The Case Foundation is honored to have the Kauffman Foundation as a partner in the movement to create a more inclusive approach to entrepreneurship.