The #FacesofFounders campaign, designed to highlight the dynamism and diversity of the modern entrepreneur, is in full force. Entrepreneurs from all walks of life and perspectives are uploading their photos and telling their stories at facesoffounders.org. The stories and the photos bring to life the fact that there has been a redefinition of who is and can be an entrepreneur.
In addition to uploading photos and stories at facesoffounders.org, we are taking our #FacesofFounders campaign and photo booth on the road. Last week we were in Boston with the Blackstone Charitable Foundation where we welcomed guests to the Forbes Under 30 Summit. At the event, hundreds of entrepreneurs snapped their photos and shared their stories of innovation.
While the #FacesofFounders photo booth was working overtime, we met with hundreds of founders, hosted Facebook Live conversations and watched insightful discussions with entrepreneurs from across the globe geared towards the topic of inclusivity. While there were many standouts at this event, in our opinion, these were the all-stars who stole the show and are representative of the changing face of entrepreneurship.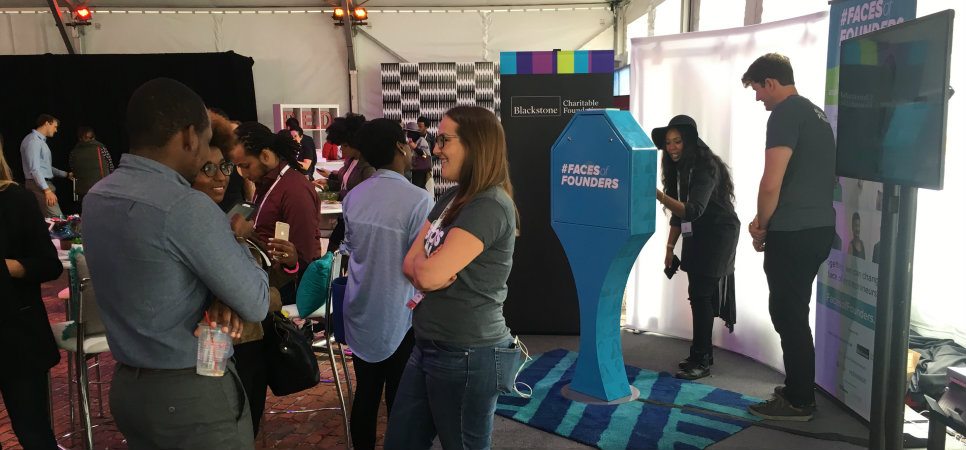 Founders Hayley Barna of First Round Capital and Birchbox, along with Lisa Falzone of Revel Systems, Jennifer Hyman of Rent the Runway and Marcella Sapone of Hello Alfred are changing the narrative around who is and can be an entrepreneur. On stage, they joined Janey Whiteside of American Express in a conversation on the changing face of entrepreneurship and how, by unlocking more flow of social capital, financial capital and knowledge capital, we can cultivate more women entrepreneurs.
Christopher Gray, co-founder of Scholly, sat down with us in a Facebook Live interview for a conversation on the challenges he faced as a young Millennial founder and how we all can engage to change the narrative about what it means to be an entrepreneur.
Trevor Wilkins, co-founder of Küdzoo, built a free mobile app where students cash in their grades for rewards. He shared with us during Facebook Live how the brand is leveraging incentives to motivate and reward students, and his experience building the brand as a founder of color.
Sir Richard Branson took the stage for a conversation on breaking records, barriers and borders. He was joined by other top entrepreneurs Tyler Haney of Outdoor Voices, Payal Kadakla of ClassPass and James Proud of Hello, Inc. in discussion around the best ways to cause disruption, create change and achieve game-changing success.
Eric Delgado and Victoria Weiss, co-founders of Rope Lace Supply and students at the University of Central Florida (UCF), joined us for a Facebook Live conversation on how the brand has grown from $300 to nearly $1 million in revenue in just three short years. The founders are part of the Blackstone LaunchPad at UCF, a program that provides one-on-one startup coaching, seminars and access to a mentor network and subject-matter experts and their story is a compelling reminder of how the entrepreneurs from all ages can succeed.
Actor and investor Ashton Kutcher, Guy Oseary of Sound Ventures, and Peter Boyce II of Rough Draft Ventures hosted the $1 Million Forbes Under 30 Pitch Competition. More than 1,000 Under 30 entrepreneurs entered for the opportunity to pitch their project and the final four competed on stage at Faneuil Hall for the grand prize—an investment from Kutcher, Oseary and Rough Draft Ventures/General Catalyst, as well as an advertising campaign in Forbes. Atlanta-Based honorCode, founded by Jeffery Martin to teach the intersection of computer programming and entrepreneurship to our communities' most vulnerable youth, walked away with the highly sought after prize.
Check out the faces of several of these entrepreneurs and their supporters who are joining the movement to change who is and can be a founder on FacesofFounders.org, and be sure to show your support for entrepreneurship for all by sharing your photo and stories there as well. Read more about the 600 entrepreneurs and changemakers who are part of this year's 2016 Forbes Under 30 class HERE.
Disclosure: Steve Case has made a personal investment in Scholly.