As the DC weather starts to heat up, we all know what that means—and I'm not talking about humidity—I'm talking about MCON! It's right around the corner, and, like last year, will be hosted in June in our nation's capital. The Case Foundation is thrilled to be a part of MCON2017 and to share the inside scoop with our readers who now know that MCON is the convening of the year on NextGen engagement.
Each summer we look forward to MCON, or the Millennial Engagement Conference, because it brings together cross sector and cross generational leaders, advocates and social entrepreneurs who are intent on better understanding current social movements and how best to bring the power of the Millennial generation to bear on advancing them. Influential figures and grass roots leaders come together on stage to share revolutionary concepts, stories of inspiration and lessons from the field, as they encourage the next generation to give, get connected and create impact. Through the course of MCON, attendees have the opportunity to spark conversations on how to turn their interest into action and to Get in the Arena on the causes and issue areas they care about most.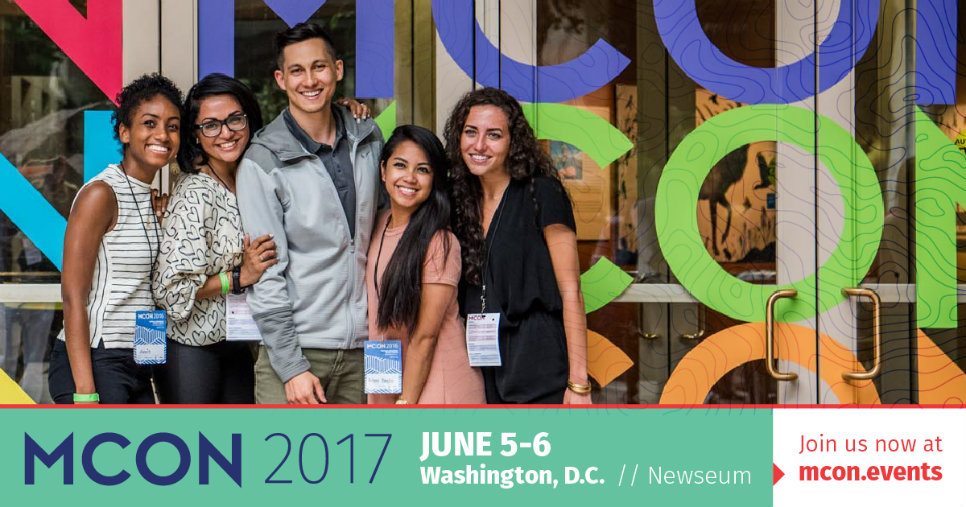 MCON anticipates over 1,000 participants this year with another 20,000 from around the globe joining via free livestream. To accommodate its continued growth, the conference will be hosted at the Newseum. This will set the stage for two inspirational days of learning, networking and, of course, fun with peers from across the country.
More than 25 speakers will take to the stage for sessions focused on three key themes: Social Justice, Identity and Planet. The line-up this year showcases some of the most influential voices from a wide variety of next generation sectors—Chef Spike Mendelsohn; Maria Teresa Kumar, President and CEO of Voto Latino; and Actress Allison Williams.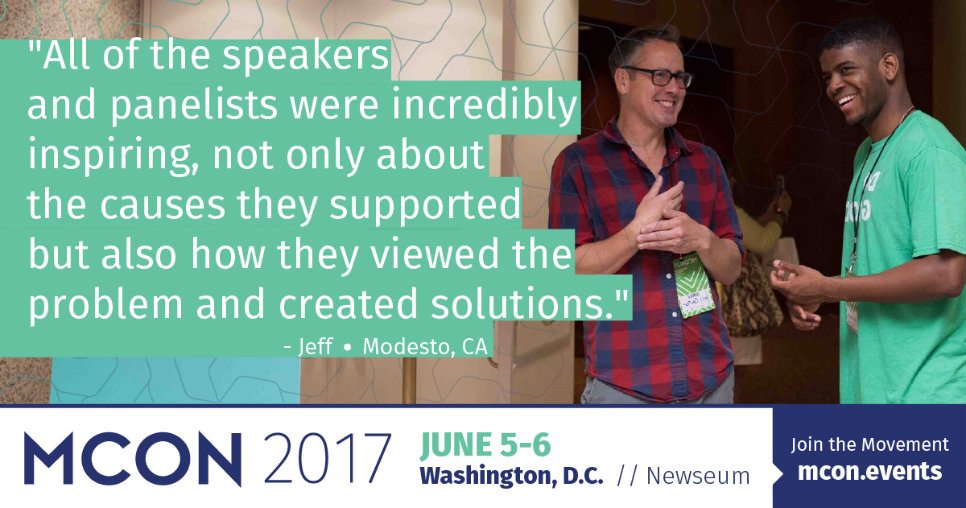 Building on the success of MCON town hall in 2016, the Igniting Good: an MCON and #GivingTuesday Town Hall will take place on the morning of June 5th and include discussions on:
Awareness campaigns for activism;
Raising support for social movements;
Grassroots movement building; and,
Organizing in a new era of activism.
And because we had such a great time at National Geographic last year, MCON will be heading back for the opening evening celebration—a free event that comes with your MCON registration, that you will not want to miss! Another cannot miss moment is the MCON lounge, where the Case Foundation is teaming up with NBC Universal in a special activation where you can share your story about what it means to you to #GetInTheArena using innovation and technology to inspire change in your community.
Case Foundation History of Getting in the Arena on Millennial Engagement
The Case Foundation took early steps to improve our own understanding and educate the field on how to better engage with the next generation of Millennial cause enthusiasts and changemakers nearly 10 years ago, when we launched the Social Citizens research report, which I still consider required reading, and which our CEO Jean Case discussed in a recent blog post. Through these efforts, we have supported Achieve's Millennial Impact Project since 2009, leveraging an influential platform with more than 75,000 participants to date.
MCON acts as a perfect companion to the Millennial Impact Report – bringing together young people and the institutions with which they engage. As we shared last year, we've been proud supporters of the conference since its inception in 2011.

Only six years later, we've witnessed the evolution of MCON and the growing influence of the reports that continue to answer pressing questions for all industries seeking to engage with the Millennial generation, and to report on the key influencers for Millennial cause engagement. We have seen how those learnings reflect on our political systems with the 2016 report and our corporate structures in 2015. And we look forward to releasing the first wave of 2017 findings this year at MCON2017.
We're less than one month away from what we know will be another amazing MCON. We hope to see you there!
For more information and to register for the conference head over to MCON.events.
You can also join us in the conversation about MCON using #MCON.