This blog post is co-bylined by Sheila Herrling, SVP, Social Innovation at the Case Foundation and Hardik Savalia, Senior Associate, Standards, at B Lab—a nonprofit organization dedicated to using the power of business to solve social and environmental problems.
It's undeniable; entrepreneurship is experiencing a culture shift. Everyday we hear more stories about the power of business to be a force for good. It's no longer enough for an enterprise to earn a good profit. There's a growing expectation that it will contribute to society and to a sustainable future. In his State of the Union Address, even President Obama articulated the need for businesses to get serious about improving their social and environmental impact. He stressed how businesses can do right by their workers, customers and communities, in addition to generating great profits.
Heeding the Call–Corporations committed to positive impact
Urgent social needs—access to energy, education, healthcare, clean water—don't show signs of decline, making it clear that philanthropic and government resources alone won't be sufficient to address them all. Communities around the world will need committed entrepreneurs and investors to help drive the next wave of great social change and environmental conservation.
Luckily, more than 1,600 companies including Patagonia and Warby Parker have taken the lead in this growing movement, by completing an extensive certification process to become B Corps. Yet, we believe that if we're going to make real progress on social and environmental issues, we have to empower all companies, no matter the industry, location or size, with the tools to benchmark, measure and compare their positive impact on workers, communities and the environment. After all, how can any business start to improve their impact, without first knowing where they stand?
Through our partnership, we at B Lab and the Case Foundation have created the B Impact Assessment to do just this, and it's already being used by more than 40,000 businesses in 80 countries. We've also recently released an enhanced, more user-friendly version of the Assessment to make it easier for any team member—ranging from CEO, to intern, to manager—to start this exercise confidentially for their business.
Ready to see it for yourself? Check out the new assessment!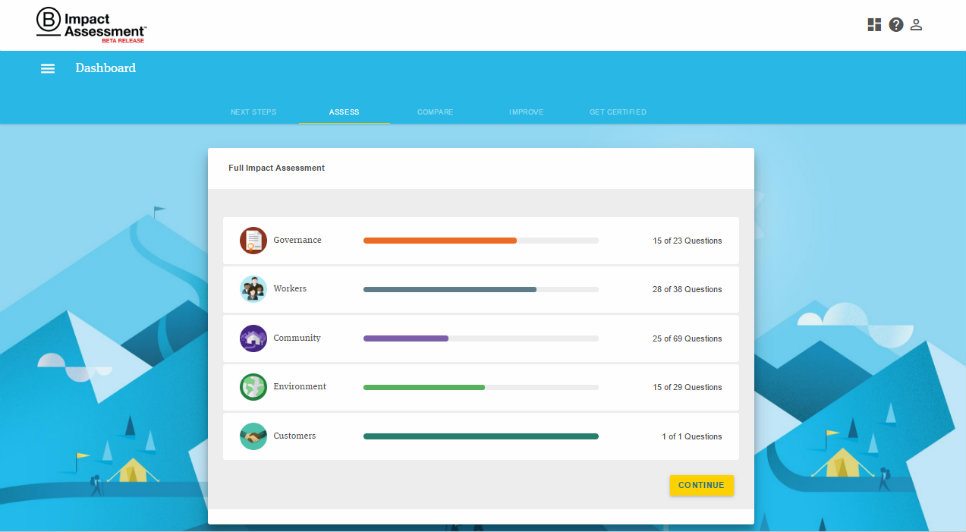 The Assessment takes users on a step-by-step journey through a variety of best practices that have already been adopted by leading companies. For example, what percent of the company's workers receive a living wage? The tool provides examples from companies like Ben & Jerry's on how they've successfully implemented a living wage program for all of their employees.
We believe there's no single way to build a better business and the initial baseline assessment is the first step on a pathway to improvement. After completing the first, quick assessment, which on average takes about 30 minutes, we encourage companies to come back and use the built-in tools to set goals, create an action plan and start implementing those best practices to realize better social outcomes.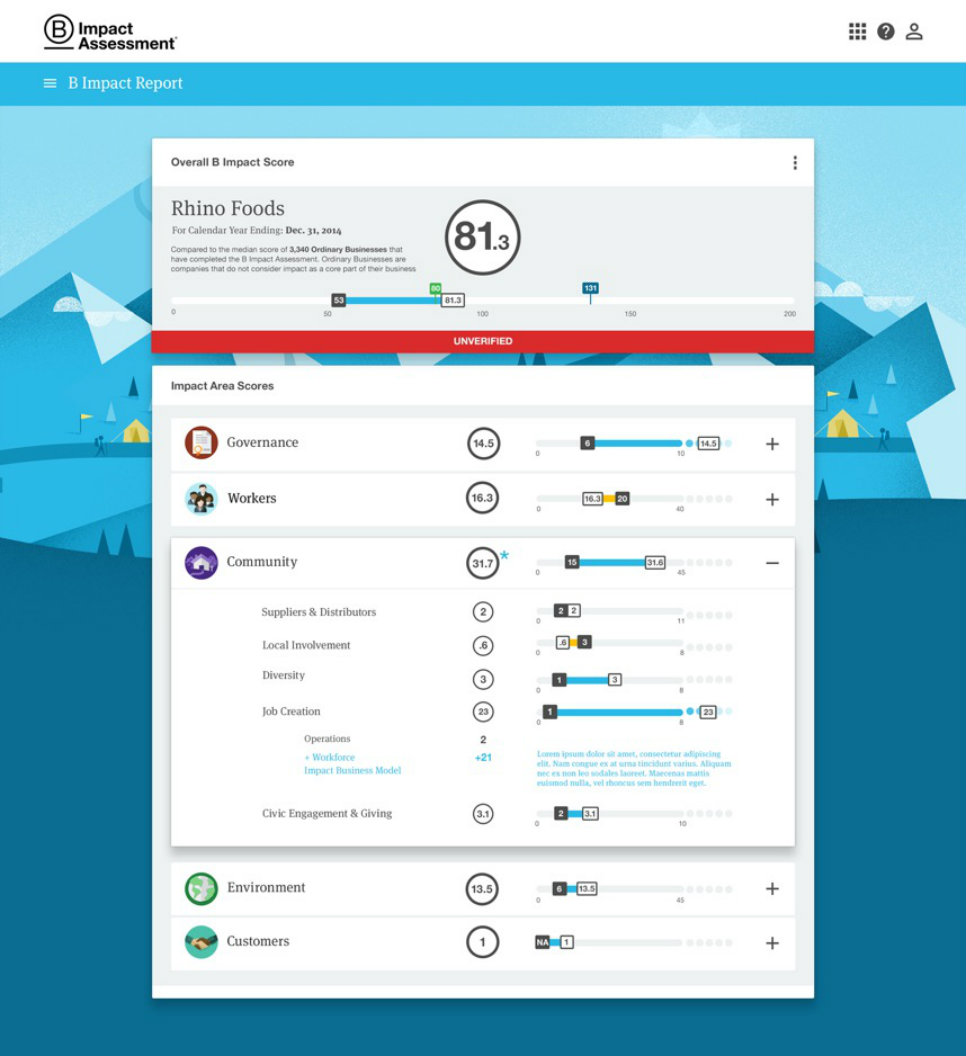 Join the Movement–Use your business to drive social change.
The B Corps community and the Case Foundation, together are proud that more than 1,600 companies have fully committed to do their part as certified B Crops—redefining success for business—and that another 40,000 companies have shown an interest in doing better. We're excited to invite all businesses to join this movement, and measure your ability to build stronger communities, create environmentally sustainable operations or cultivate empowering employment opportunities. We invite you to use business as a force for good.
Join our upcoming webinar, Increasing Your Impact & Improving Your Score on the B Impact Assessment, to learn more about how business can measure and improve their impact.