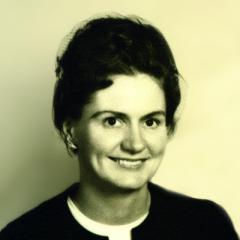 One of the most common questions I hear from people I meet who know about our work at the Case Foundation is, "why did you and Steve create the Foundation, and why have you chosen to make this your life's work?"
The answer I quickly offer is that we have a faith and a belief that to whom much is given, much is expected. But it turns out that is only the quick, polite answer I use in passing. And it is only part of the story. The real answer is much deeper and layered and goes to the heart of who and what inspired us and modeled a life of giving back.
Which brings me to the reason for this posting today. My mother, Norma Norton, passed away on Saturday. She was a truly remarkable person. She was my inspiration in life. Born of German immigrant parents in Chicago in 1929, she faced many challenges in life yet she never let them defeat her. No one looking at my Mom's early life would have put her in the "to whom much is given" category. Indeed, she was a single Mom who worked hard as a waitress most of her life to ensure that everyday, basic needs were met for the four children she was raising on her own. Despite the challenges of our circumstances, my Mom was one of the happiest, fun-loving people I have ever known. She simply loved people and they loved her. We used to joke in our family that our house had a star in the window (it didn't) to signal a safe haven for those in need, because although we barely had enough to make ends meet for our own family, Mom was always offering a helping hand to others – a kind word, a joke or a listening ear. Ours was a house where there was always a big, delicious meal and plenty of extra seats for those who would stop in, stop by and for those who sometimes came and stayed. Being in the presence of my Mom just made people feel good.
My Mom was the "real deal" as they say. People often said, "you always know where you stand with Norma." Her heart was right there on her sleeve for all to see and I know that there are hundreds of people today who would tell the story of being deeply touched by my Mom's countless acts of love, compassion and understanding, or being stopped in their tracks with Mom's quick wit or comeback. Over the last year as my Mom's illness caused even more frequent hospital stays, it wasn't uncommon to receive a call or a visit from the cashier at the local grocery store, or her plumber or the man who cut her lawn. To these people, she wasn't simply a customer, she was a friend. Many told stories of how she shared a genuine and rare interest and concern for them and their stories, or how she offered a helping hand to them in their time of need. My Mom's battle with her heart and lung diseases lasted over 9 years and in that time, many of the nurses that crossed her path went on to become "regulars" in her life — calling or emailing just to say hello or to share a story — staying in touch with a woman who touched them in a special way. In the end, when it became clear she was not going to pull through, her doctors shared with us the loss they would feel knowing my Mom wouldn't be a regular "bright spot" in their routines. Each one said they would smile when they saw her name on their daily schedule.
I left Florida for Washington DC in 1982, yet it was as though no distance separated me from my Mom through the years. We traveled together often, we spoke almost daily and she was at the center of the lives of my children. Indeed, when she came to town she would offer to run errands with me or for me and I was always impressed with the local friends here she collected along the way. I'd run into my regular dry cleaning establishment only to have the owner come out to give her a hug and talk about how he'd missed her while she was gone. Or the butcher say, "we have a good looking pork loin today that I put aside for you, Norma." And this wasn't even her town.
I have clear recollections of the financial struggles she faced in trying to make it all work out. Grocery shopping was a daily event and totally reliant on the previous nights' tips my Mom received as a waitress. My own private school education was only made possible because my Mom threw herself into the situation, insisting I would be worthy of a generous scholarship, which was provided to me. Mom's work ethic, and her remarkable ability to tackle more things in one day than most people could accomplish in a week, is another gift she left behind. Anyone else in her situation would have grown weary, but my Mom was the Energizer Bunny — I never saw her complain that something was "too much" and she poured herself into raising children, working hard and finding a way to be there for others, always.
Mom was very patriotic and lived by the rule that "freedom isn't free." For her birthday several years ago, she requested a flag for her front yard. She made it clear she wanted a standing 20 foot flag pole, centered directly in the middle of the circular drive of her somewhat modest house. She flew flags that were flown over Pearl Harbor and she was always careful to honor all flag-related protocol. She told me more than once it was the best birthday present she ever received. I think she never missed an opportunity to vote when she could. She had a "God Bless America" bumper sticker for years and email signature that said the same. She loved being an American and she celebrated as her children and grandchildren lived out the American dream.
I realize that my Mom's own graciousness and spirit of generosity played such an important role in preparing me for my own adult life which has been filled with blessings and privileges. She would have never used the word "volunteer" or "service" to describe the process of working hard to help others. I remember the first time I talked to her about our "philanthropy" and she didn't know the word, yet when she accompanied me to the opening of a Habitat for Humanity home for a single mom and her five children, she came to understand philanthropy in a very personal way. To her, giving was a highly personal thing. By her definition, it should come from the heart.
The business of running a Foundation can become a highly depersonalized thing if you let it. It's easy to forget the stories, the faces and the personal circumstances as we get caught up in programs and initiatives. But the truth is everything we do at the Case Foundation is really about people. Our guiding philosophy — "citizens at the center" — reminds us that civic engagement efforts, online giving initiatives and our core strategic initiatives around clean water, brain cancer and interfaith dialogue are really efforts to touch lives, build bridges and offer opportunities for those who are in need.
The Case Foundation was born out of the vision and the hope that my husband Steve had to use our resources to try to make a better world. Much like me, his parents were a big part of his own inspiration. But on this occasion as we honor the life of my Mom, we thank her for modeling countless acts of love and compassion toward others not through a title or established entity, but in the everyday living that touched lives and lit a path for us to follow. Her mark on this world now lives on through the work of the Case Foundation.