This post on Olympic quotes was written by Isabella Robledo, Case Foundation intern.
Every two years, the world comes together in a celebration of the breadth and height of human physical achievement at the Summer and Winter Olympics. Often the narrative surrounding these talented athletes from around the world is one of "determination" and "persistence." In fact, many articles about individual Olympians will cite the "10,000 hour rule," explaining that what sets these athletes apart is not only talent, but also a single-minded focus and persistence in this one major area of their life. Today, we recognize that in addition to these athletes' commitment to their sports, to become truly great at anything also requires one to Be Fearless. And this is a life lesson from which we can all learn.
Take Gabby Douglas, for example, a world-class gymnast who took a giant leap at the young age of 14 by moving across the country to train and pursue her dream of competing in the Olympics. Her perseverance and fearlessness paid off in 2010 when she won a gold medal for the USA, and again this year as she and her "Final Five" teammates repeated as Olympic champions in women's gymnastics by an historic margin. In an interview after her 2010 victory, Douglas noted that before the competition she kept repeating to herself, "Believe, don't fear, believe."
In the spirit of Olympic Fearlessness, here are our top 10 Be Fearless Olympic quotes.
"I'd rather regret the risks that didn't work out than the chances I didn't take at all." – Simone Biles, five-time Olympic medal-winning gymnast
"Don't put a limit on anything. The more you dream, the further you get."
– Michael Phelps, most decorated Olympian of all time, with 28 medals for swimming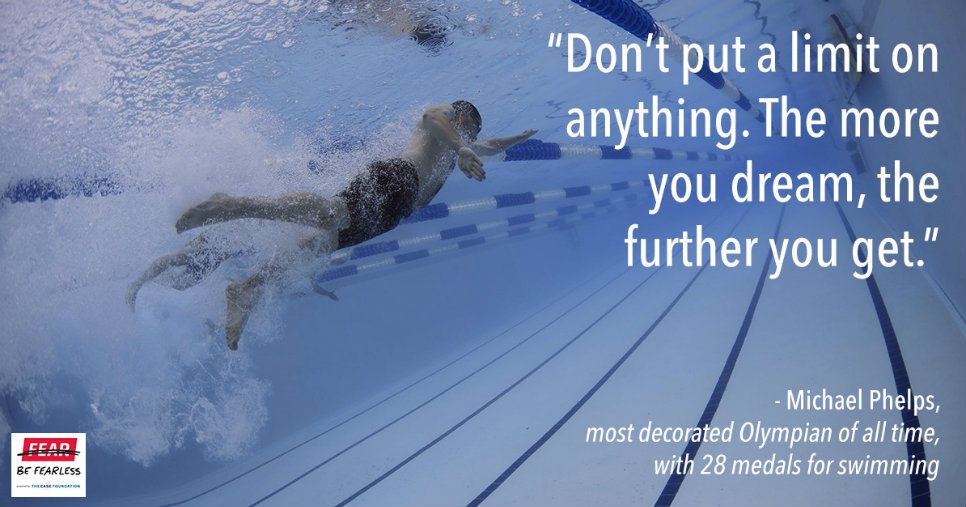 "Failure I can live with. Not trying is what I can't handle!"
– Sanya Richards-Ross, four-time Olympic gold medal-winning track and field star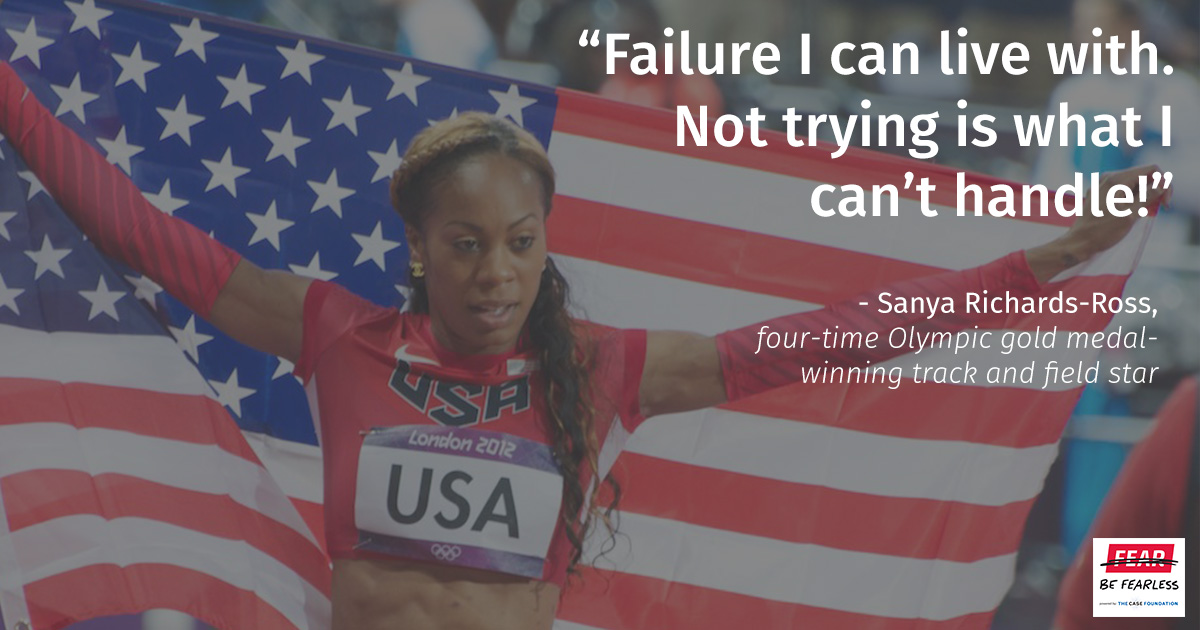 "We are all the same in this notion: The potential for greatness lives within each of us."
– Wilma Rudolph, American runner and three-time Olympic gold medalist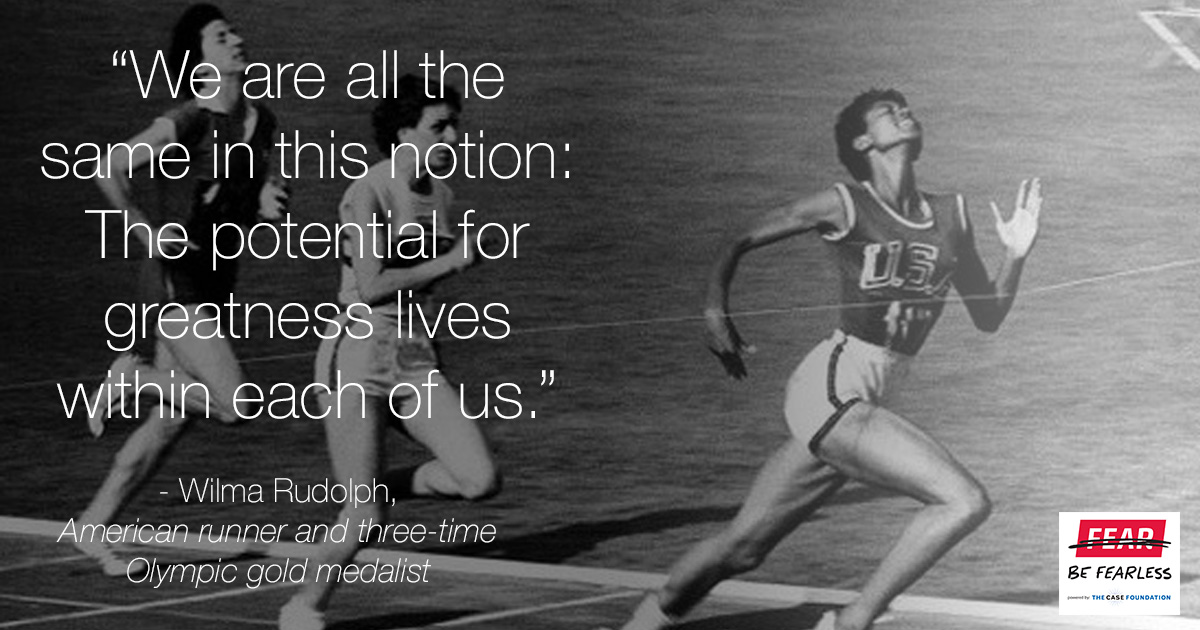 "We have the can-do factor, and us doing what we do I think inspires people to just try that little bit harder, whether they are able-bodied or disabled."
— Lee Pearson, ten-time Gold Paralympian Dressage competitor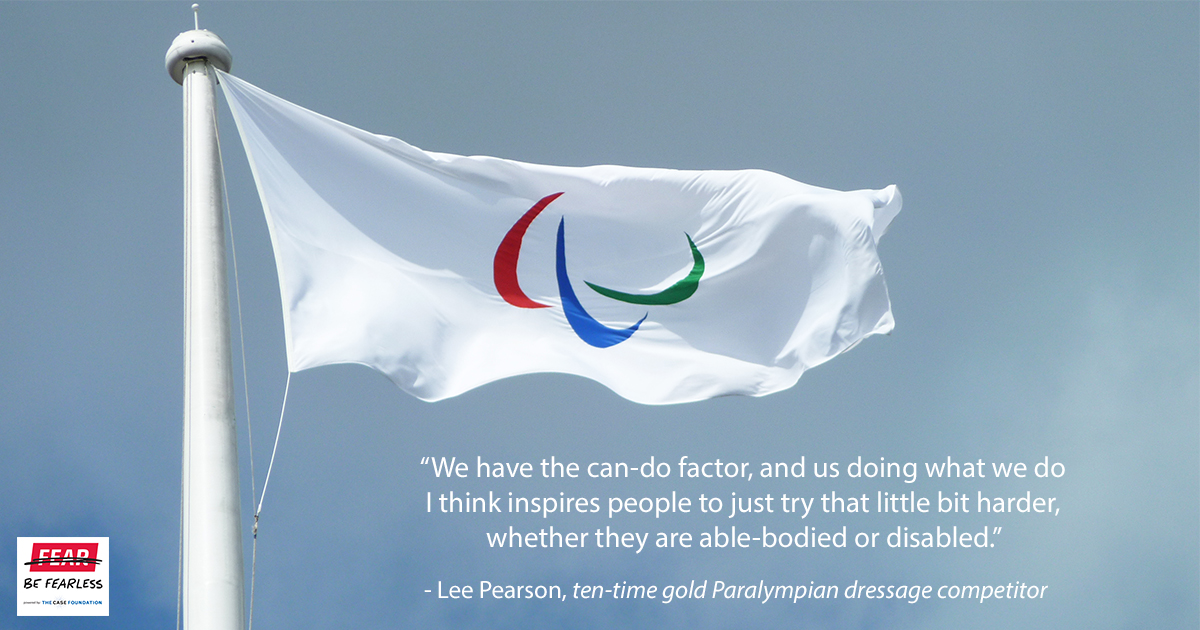 "He who is not courageous enough to take risks will accomplish nothing in life."
– Muhammed Ali, Olympic gold medalist boxer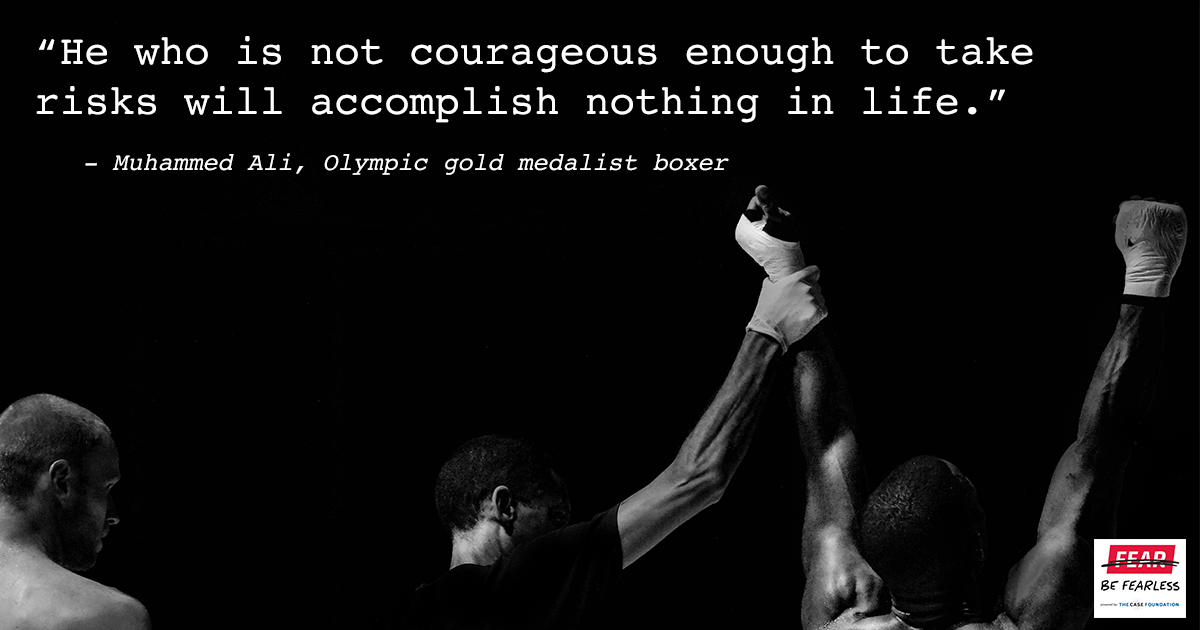 "I've missed more than 9,000 shots in my career. I've lost almost 300 games. 26 times, I've been trusted to take a game winning shot and missed. I've failed over and over and over again in my life. And that is why I succeed."
– Michael Jordan, two-time Olympic basketball gold medalists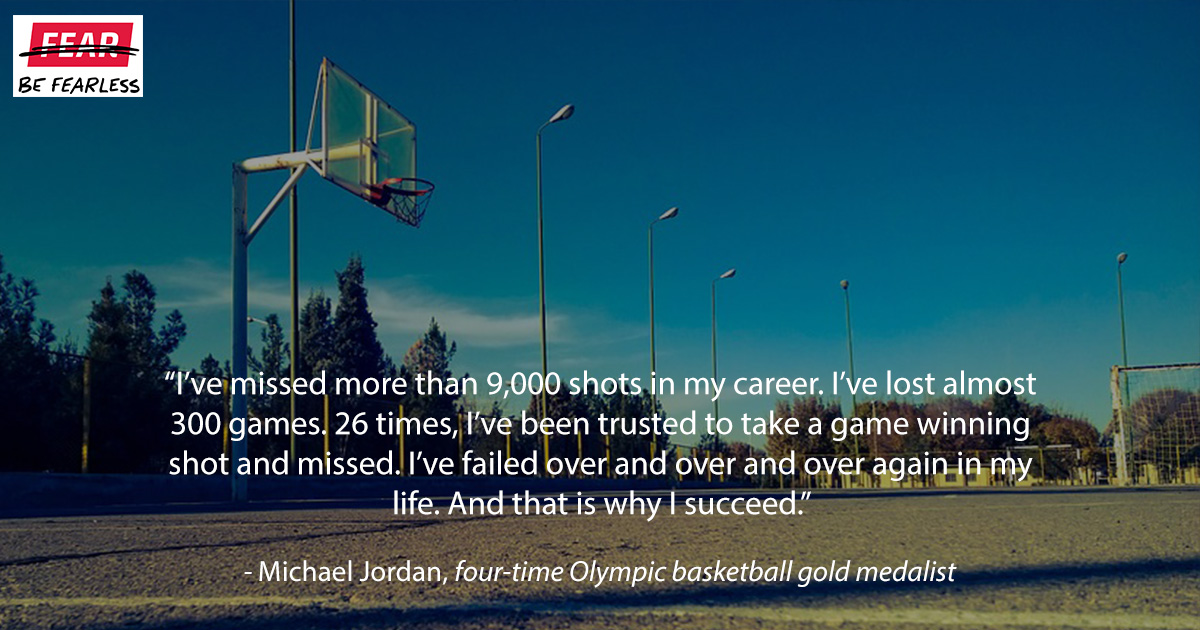 "I don't run away from a challenge when I am afraid, instead I run towards it because the only way to escape fear is to trample it beneath your feet."
– Nadia Comaneci, five-time Olympic gold medal-winning gymnast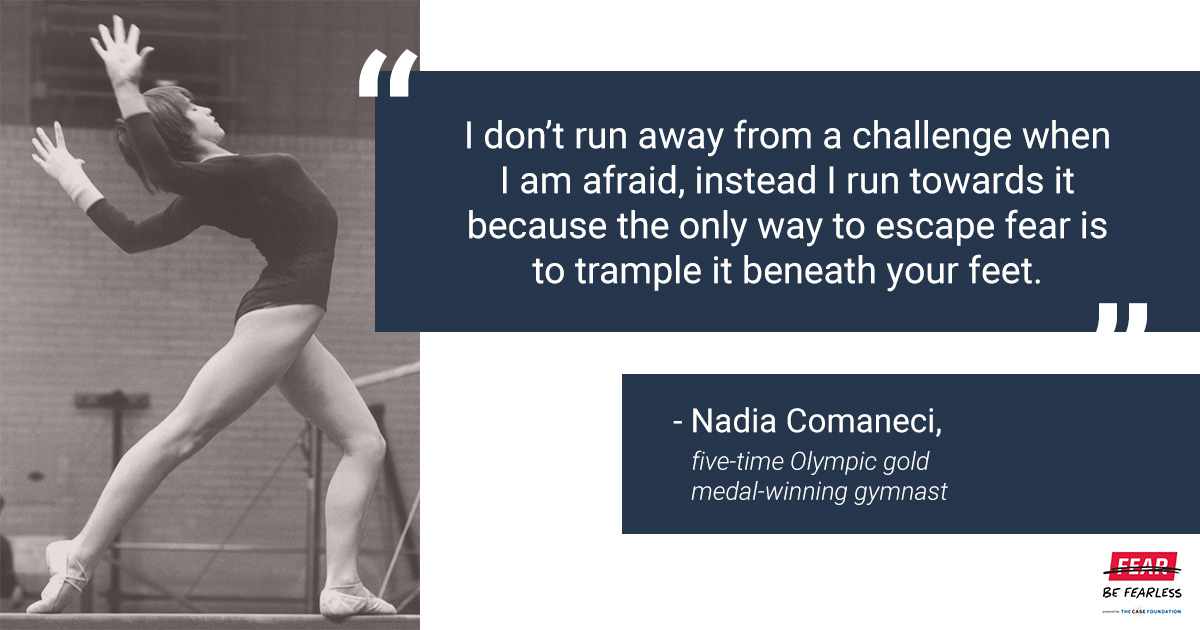 "I'm scared of failure all the time, but not enough to stop trying."
– Ronda Rousey, 2008 Olympic Judo bronze medalist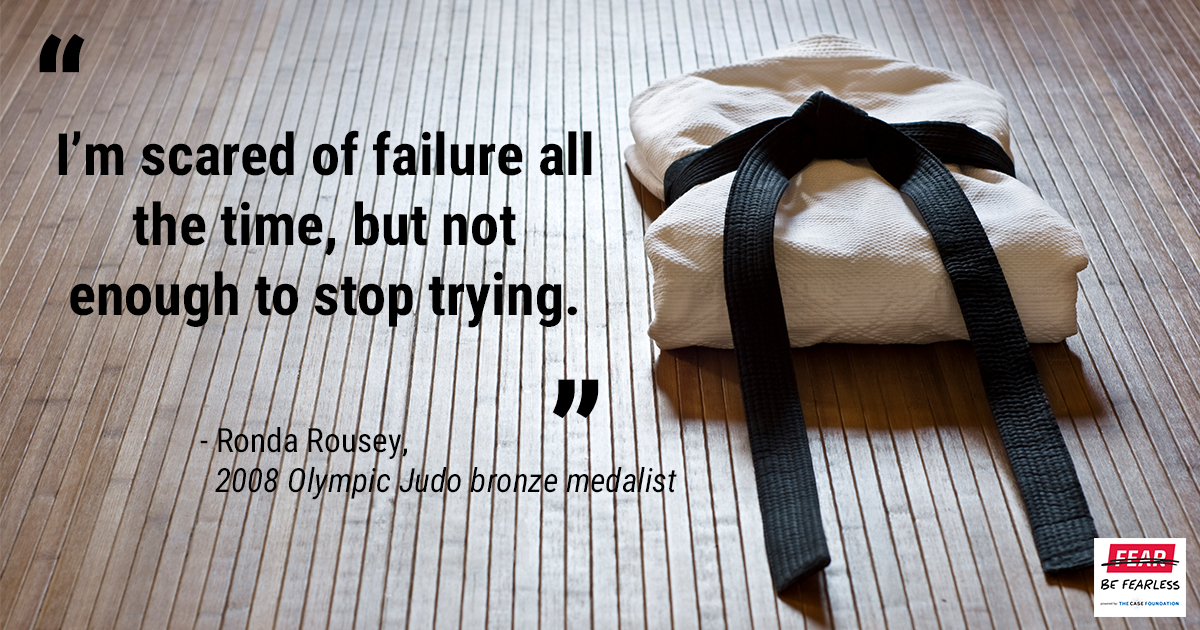 "There's always a point where you get knocked down. But I draw on what I've learned on the track: If you work hard, things will work out."
– Lolo Jones, Olympic hurdler and four-time gold medal winner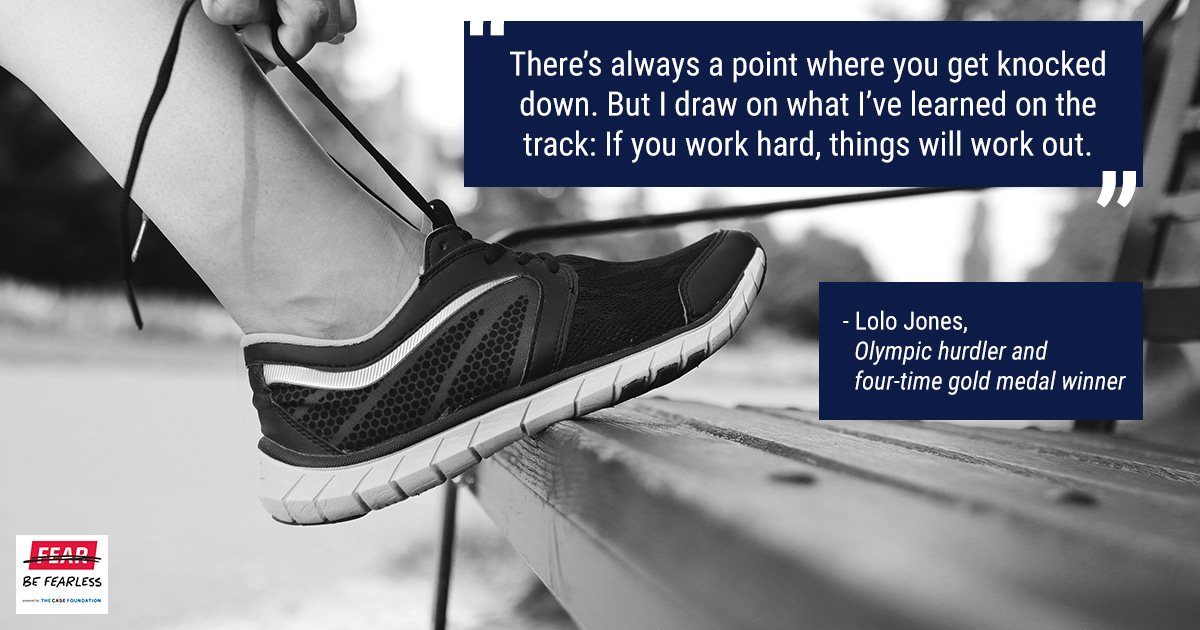 Feeling inspired? If you're ready to begin your own Be Fearless journey start by downloading our free Be Fearless Action Guide and Case Studies.
Header photo credit: Flickr user Tony Hisgett, used via Creative Commons.