Social Capital Markets (SOCAP) is a conference series dedicated to exploring, innovating and collaborating around the ideas and solutions that can increase the flow of capital toward social good. The annual flagship event concluded last week at the historic Fort Mason Center in San Francisco, CA.
SOCAP has played a special role within the Impact Investing field since the first conference in 2008. It has continued to draw crowds of impact investors, social enterprises, field-builders and thought-leaders to discuss the latest and greatest in Impact Investing.
In recent years, particularly as the Impact Investing movement has gained serious traction, the need for SOCAP to expand beyond "the choir" to include major investors—inclusive of asset managers and owners—has never been more important. Similarly, the need to shift conversations from Impact Investing being an "emerging field" to a "growing industry" has been much needed.
We observed that shift this year, and were happy to be a part of it.
Members of the Case Foundation team travelled to SOCAP last week to engage in a global conversation around money and meaning. We left with a renewed sense of inspiration, as well as fresh ideas for collaboration. Here are a few of our key takeaways from the week:
1. We're no longer discussing the "emerging field" of Impact Investing. It has emerged.
Since the Impact Investing field was first formalized, much of the conference has focused around persuading broad audiences to embrace it. For the impact community, it has been particularly challenging to bring along mainstream investors to explore another tool in their investment toolbox.
This year, however, numerous individuals in the opening plenaries, panels, sessions and breakouts had a different message. No longer were experts advocating for the importance of Impact Investing, but rather that Impact Investing is already here. In a time of finite resources, heightened importance around business sustainability, need for holistic risk assessment and demand for matching capital with individual values, the question of whether Impact Investing is real has been answered.
Instead, there was an intentional pivot to "how?" How do we make Impact Investing tools broadly accessible to diverse markets and audiences? How do we equip wealth advisors, CIOs and institutional investors with the knowledge, training and resources they need to explore the integration of Impact Investing into their product suite? How do fiduciaries continue to meet stringent expectations around their financial duty, while also responsibly integrating impact? The signaling here is critical, and we were pleased to see the thoughtful and creative conversations around how to address these questions.
To dig deeper, check out a recap of our session on Thursday about leveraging the advisor community as a gateway to Impact Investing.
2. Levelling the entrepreneurship playing field is a must.
Just as the rhetoric around Impact Investing has changed in recent years, so has the conversation around entrepreneurship. At SOCAP, a concentrated effort has been made to provide entrepreneurs with a chance to connect, pitch and seek mentorship. But that's not the only way the conversation has changed; an entire track of the conference this year focused on inclusive entrepreneurship. These sessions tackled important topics of diversity and inclusion across race and gender within entrepreneurship, and brought to light both critical shortcomings and tremendous benefits from access and opportunity for all of our changemakers.
At the Case Foundation, entrepreneurship has always been a big part of how we think about our movement catalyzation efforts. For nearly 20 years, we've continued to believe in entrepreneurship as a driving force behind growth, development—and importantly—inclusion. To that end, SOCAP was an opportunity to give a sneak peek of our #FacesofFounders campaign with a photo and storytelling booth at the Festival Pavilion. In partnership with the Blackstone Charitable Foundation, the Case Foundation's #FacesofFounders campaign will shine a spotlight on the millions of diverse entrepreneurs in America, and reinforce the importance of an inclusive approach to entrepreneurship. Entrepreneurs and supporters of entrepreneurs were invited to take free headshots, share their stories, showcase their varied backgrounds and share their journeys of learning and success.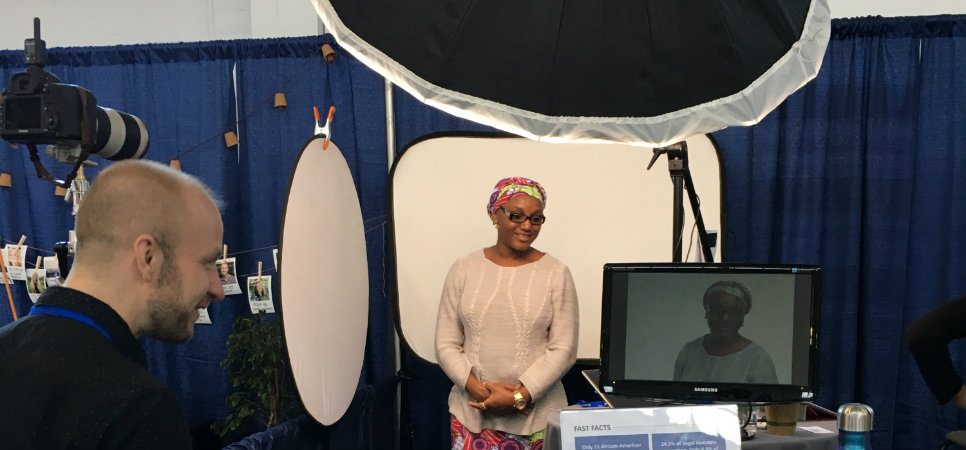 Check out a recording of Senior Vice President Sheila Herrling's lively panel, Am I an Entrepreneur?, with changemakers Monique Woodard, Tony Tolentino and Kelechi Anyadiegwu.
3. Transparency is essential.
In the Impact Investing space, metrics, measurement and the data that supports these activities have observed a transformation in both necessity and importance. Often considered a cumbersome demand of early Impact Investing activity, measurement, tracking and transparency are essential in getting the field to scale.
During SOCAP, we co-hosted a standing room only session on open data for social good with ImpactSpace and SODA. Investors, entrepreneurs and field-builders crowded in to watch rapid-fire presentations from data-powered platform creators, who have all committed to innovate around the way we gather and share data. This is indicative of a growing community of data experts and stakeholders looking to advance the practice of effective collaboration through powerful, user-friendly tools.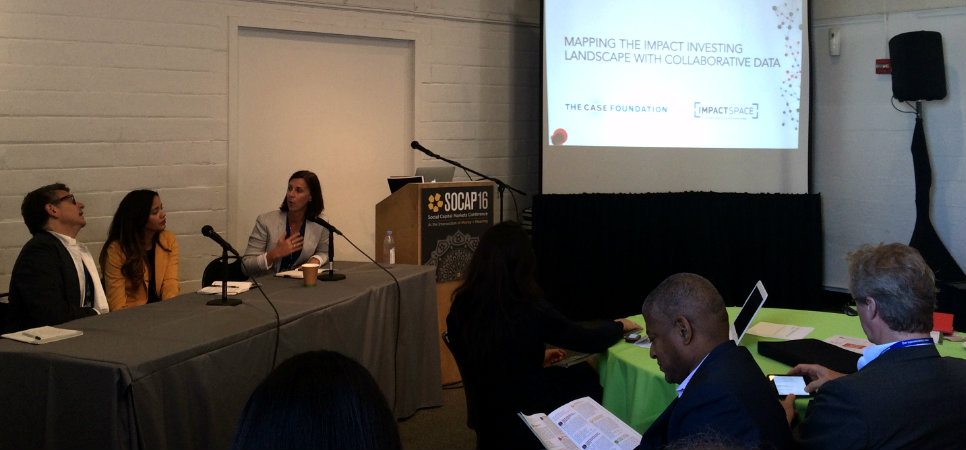 At the Case Foundation, our movement building efforts have included collaborative partnerships to sophisticate and streamline data accessibility, including impact measurement, investment reporting and research. Our work on the Impact Investing Network Map is one such way we're hoping to bring in investors and organizations looking to engage in the space. Primarily, the Map will allow a visual overlay of transaction-led relationships across the Impact Investing industry and enable users to filter information by asset class, geography, and impact area. Through a partnership with ImpactSpace, and using data from CrunchBase, we're hoping to demonstrate just where the relationships exist, tangibly bust through the myth that the field is still nascent, and work together to change how we talk about data.
Want to check out more on the Impact Investing Network Map? Sign up to be an early tester and submit your data directly to the platform!
…
We were thrilled to see our movement areas—Impact Investing and Inclusive Entrepreneurship—collide at SOCAP, and witness the momentum building around each of them. We look forward to continuing to forge strong partnerships in these areas, to build on these movements and reach tipping point.