What could happen if you brought together dozens of people (from all sectors – government, business, nonprofit and beyond) who believe in the power of entrepreneurship to change the world for networking over pizza and beer, and an hour-long, in-depth conversation with a proven inspiring leader who has done great things (who is invited onto the stage only after several "warm up" cheers)? Well, the answer to that question is played out in more than 100 cities and 42 countries (albeit with varying food and beverage options) throughout the year – and it's called Startup Grind. Startup Grind is self-described as a "global startup community designed to educate, inspire, and connect entrepreneurs," and we were excited when their Washington, DC chapter invited our own Jean Case to participate in their most recent monthly event.
After the Startup Grind cheer, a tradition at all chapter events designed to energize the crowd, Jean joined Brian Park, the COO of Startup Grind, on stage for an in-depth interview. The discussion touched on a range of Jean's experiences, from being a part of the world's first online service (The Source), to the skyrocketing days of AOL, to the moment when the Case Foundation was created 17 years ago.
Not surprisingly, the discussion focused on some key themes that are close to our hearts, including the rapidly growing social entrepreneurship space. When polled by Jean, nearly half of the audience self-identified as entrepreneurs who are building a business with a social mission – and Jean shared some key advice for them on how to stay focused on building a great business. Specifically, she emphasized the importance of marketing no matter whether you're in a for- or nonprofit organization, noting that it is vital for all organizations to identify their unique value proposition.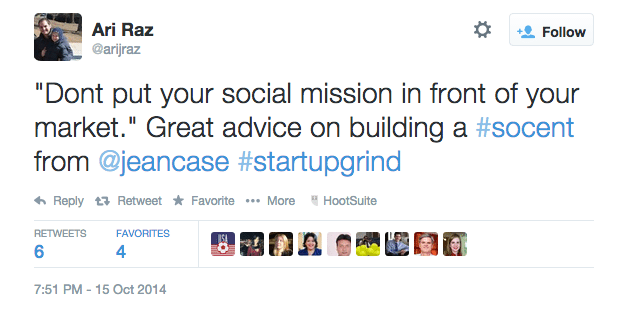 Jean also touched upon the important role that Millennials are playing in the growth of social enterprise and impact investing. The younger generation is no longer satisfied with just getting a financial return, they also want a social one. They are getting involved as investors themselves and are affecting the way their parents and grandparents spend their money.
Brian also asked Jean an important question about one of our core beliefs, specifically "Why Fearless, when you could have chosen a dozen other words – like passion, relentless, focus"? In addition to sharing more about our aspiration to Be Fearless in all that we do at the Case Foundation, and to encourage others to take risks, experiment and develop unlikely partnerships, there was also a great discussion about failure, where Jean continued to inspire the audience: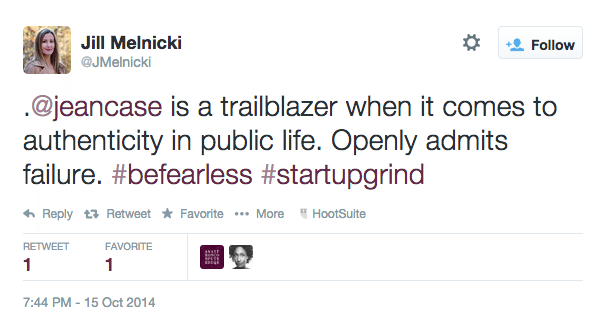 Jean also shared words of wisdom about leadership and teamwork – when asked about her selection as a finalist for the Washington Business Journal's "Most Admired CEO" award, she emphasized the importance of the people you surround yourself with. And one of her biggest pieces of advice to young founders? Make sure you hire people who are smarter than you.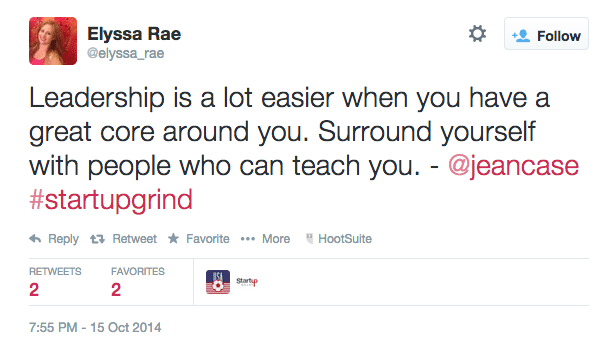 You can learn much more from Jean's insights – and some great questions from the audience in attendance – click here to watch the video.
And whether you're at a startup or not, if you want to be inspired by amazing leaders, and connect with entrepreneurs – and intrapreneurs – doing incredible things, we recommend checking out a Startup Grind event near you!