Today the Case Foundation is launching the #FacesofFounders campaign aimed at catalyzing the inclusive entrepreneurship movement. Our goal is to help change the narrative of how people talk about entrepreneurs, with the goal of leveling the playing field, so everyone has a shot at the American Dream.
America itself was once a startup, built upon the founding principle that we all are created equal. It follows that we should all have an equal opportunity—if we work hard—to succeed. The hope and promise of America is the promise that anyone—from any place, any race, any gender, any age and any sexual orientation—can bring forward the next big idea.
Yet, all too often it appears that while talent is equally distributed, opportunity is not. And that feels especially true for women entrepreneurs and entrepreneurs of color. For a country where nearly all new jobs are being created by startups, maximizing opportunity for all entrepreneurs could not be a more urgent or important undertaking.
And so, this afternoon we are joined by more than 2,000 social champions for change as we launch #FacesofFounders at the White House South by South Lawn (SXSL) festival. The campaign creates a much-needed rallying cry for entrepreneurs and the allies who support them to showcase the diverse backgrounds and approaches of entrepreneurs today. Beginning today, until November 22nd, we invite all entrepreneurs—particularly women founders and entrepreneurs of color, as well as all those who support inclusive startup ecosystems—to share their photos and stories of entrepreneurship on FacesofFounders.org or on Twitter using #FacesofFounders.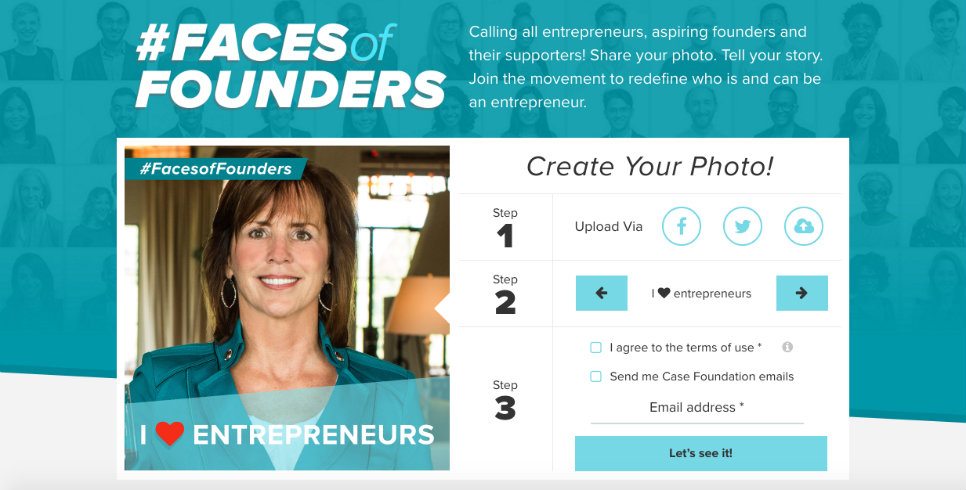 We've partnered with the Blackstone Charitable Foundation, Google for Entrepreneurs and UBS, along with Fast Company, to showcase and cultivate the best and brightest founders who are driving innovation and job creation across America. Additional promotional support is being provided by Black Enterprise and Latina Media Ventures. Together, we aim to change the storyline around who is and can be an entrepreneur.
Our commitment is to foster an inclusive approach to entrepreneurship, one that expands support for inclusive networks and inspires entrepreneurs from all backgrounds to launch scalable companies with the potential for global change. We know we have work to do, as today only less than 10 percent of venture-backed companies have at least one woman founder and less than one percent have an African American founder. Yet data shows women-founded ventures are outperforming their male counterparts and companies with diverse leadership teams provide greater returns for investors.
As we seek to showcase the diversity of entrepreneurs across our country and level the playing field for all entrepreneurs to thrive, we are inspired by the stories of women founders and entrepreneurs of color. Andrés Moreno of Open English, the internet-based English language instruction platform reaching more than 500,000 students, to date has received more than $120 million in venture capital funding. Or Kelechi Anyadiegwu, founder of Zuvaa, who heads a social enterprise fashion brand that went from $500 in revenue to $2 million in just two years. And others like CEO Shazi Visram, founder of Happy Family, who has created a B-Corporation and healthy baby food company sold in more than 40,000 stores across the globe. And in that "any age" category, how about Mikaila Ulmer, the dynamic 11-year old CEO and founder of Me & the Bees Lemonade sold in retailers like Whole Foods. These are founders who are changing the face of entrepreneurs in America and who can lead the next billion-dollar brands.
It's time to change the narrative of how we talk about entrepreneurs in American culture. It's time to break down the stereotypes of who can be an entrepreneur and correct the outdated myths of what an entrepreneur can look like. It's time to lift up all entrepreneurs in order to create stronger communities, close the opportunity gap and scale creative solutions to persistent problems.
Join us in this movement! Post your photos on FacesofFounders.org or using #FacesofFounders on Twitter. Share the campaign with someone who is helping to build more inclusive ecosystems. And if you are an entrepreneur, tell us your story at FacesofFounders.org—five founders will have their story featured in a sponsored series on FastCompany.com next spring. Let's rise together!