Race for Hope Raises $2 Million for Brain Cancer Research and Honors Vice President Joe Biden

This past Sunday, 10,000 individuals from across the globe gathered for one purpose—to make a big bet to find and fund a cure for brain cancer. Together they raised $2 million to benefit Accelerate Brain Cancer Cure (ABC2) and the National Brain Tumor Society (NBTS) at the historic Race for Hope – DC. For nearly 20 years, Race for Hope has rallied individuals and organizations together to fearlessly raise more than $27 million for brain tumor research and honor those affected by the disease.
The need to do so is more urgent than ever before, as there are almost 700,000 people living with a primary brain tumor diagnosis in the U.S., and within the next year, more than 210,000 people in the United States will be diagnosed with a primary or metastatic brain tumor.
This year, Vice President Joe Biden was in attendance with his family at the event where they received the Triumph of Spirit Award in memory of his son Beau Biden, who passed away from brain cancer in 2015. The award honors their dedication and commitment to advocating for the National Cancer Moonshot initiative to end cancer as we know it. He shared with attendees that the brain cancer research field is changing exponentially and the U.S. is investing billions of dollars in cancer research to find a cure. He encouraged all attendees to, "Keep running [and] keep the faith. There is hope. It's not a false hope."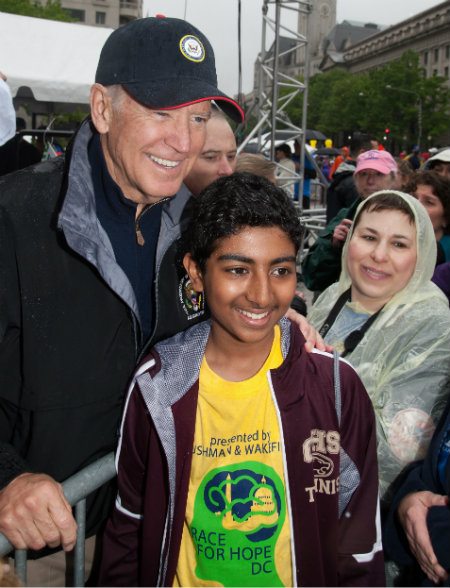 At the beginning of the race, a Survivor Tribute featuring more than 350 fearless brain tumor survivors—such as 13 year old brain cancer champion Nitin Ramachandran, photographed here with Vice President Biden—who marched together towards the starting line as a symbol of hope and strength in their battle against brain tumors. Among the participants was: Deanna Glass-Macenka, a neurosurgical oncology nurse who is in her ninth year of running the Race for Hope and is the team captain for The Johns Hopkins Hospital's team; Julie Frank who was diagnosed with brain cancer in March of 2008 while in graduate school at George Washington University; and Beth Ann Telford, Ironwoman and brain cancer champion has raised nearly $1,000,000 for ABC2. Next up for Telford is the 2017 World Marathon Challenge, in which she will run seven marathons on seven continents in seven days to benefit ABC2. Attendees also paid tribute to those we have lost to brain cancer, including Dana Daczkowski who was the younger sister ofABC2's own Nike Beddow, both co-founders of the Race for Hope, and Pamela Sue, the daughter of Race For Hope co-founders Lionel and Sandy Chaiken.
David Cook, previous American Idol® winner and Honorary Chair of the Race for Hope – DC, brought his Team for A Cure back this year and raised more than $92,000. David and his team participate in memory of his brother Adam who passed away due to brain cancer. As an ABC2 Ambassador, David is champion for the cause throughout the year.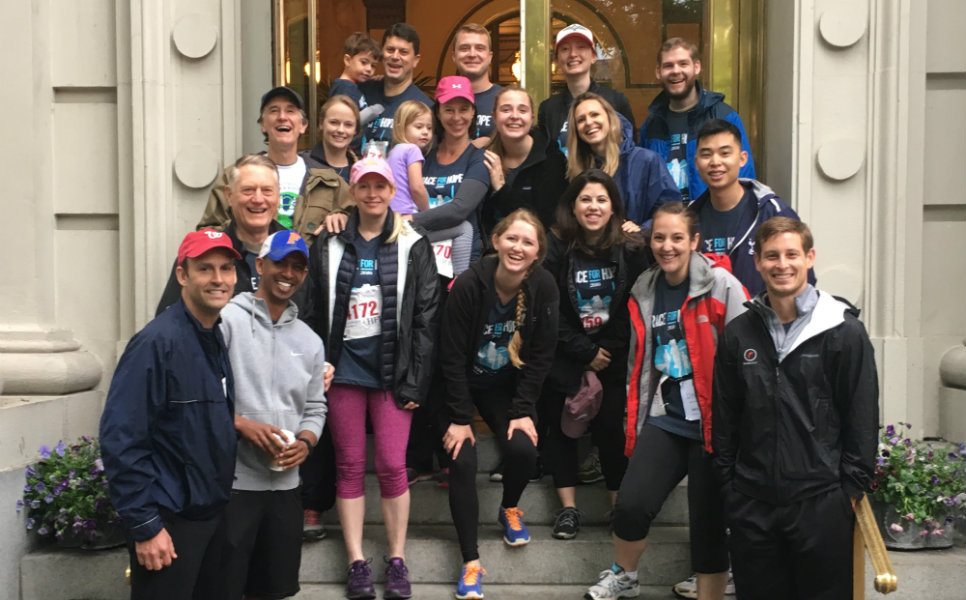 This year the Case Foundation team gathered to walk in honor of Dan Case, brother of Steve Case. In 2001, Dan was diagnosed with brain cancer. Discouraged by a lack of information and limited treatment options, Dan, his wife, Stacey, and Steve and Jean Case, co-founded ABC2. The organization (which is a grantee of the Case Foundation) is driving cutting-edge research and treatments for brain tumors and has awarded more than 100 grants totaling $20 million in brain tumor research.
To learn more aboutABC2 and how you can help in the search for a cure for brain cancer, visit abc2.org.
Header photo (from left to right): Max Wallace, ABC2; Roberta Liss, Cushman & Wakefield; Jeff Kolodin, NBTS; Johnathan Weinberg, ABC2 ; David Arons, NBTS.