This Spotlight is a part of a special blog series curated by the Case Foundation featuring Be Fearless stories from the field. Follow along with us as we meet people and learn about organizations that are taking risks, being bold and failing forward in their efforts to create transformative change in the social sector. In this most recent spotlight, we had the chance to sit down with Jennifer Lockwood-Shabat, President and CEO of the Washington Area Women's Foundation for a Q&A about how the Women's Foundation is living the Be Fearless principles in their work.
Q: What does your organization think it means to Be Fearless?
A: For Washington Area Women's Foundation, to "Be Fearless" means to stand when others are sitting, raise our voices when others choose to be quiet and push harder when others choose to give up. Being fearless means believing that all girls in our community can grow up with a clear vision of a future beyond poverty. The mission of The Women's Foundation is to mobilize our community to ensure that economically vulnerable women and girls have the resources they need to thrive. Our overall goal is to move all women and girls currently living in poverty to a place of consistent economic stability—and to get there, we must Be Fearless.
Economic security has been central to our mission since our founding, but it's not enough to simply say that we are working with low-income or economically vulnerable women and girls—we are being intentional and explicit in our language and our actions. We are letting urgency conquer fear and are no longer leaving unsaid the realities facing women and girls, and the ways that race and ethnicity further contribute to that reality. It's for that reason, and many more that on January 21st, we launched #our100days, a way for everyone in our community to Get In The Arena and take action. Every day we provide a single task that can make our communities better for the women and girls who live in them.

We believe that every woman should have an equal opportunity to achieve economic security and with our fearless and bold vision, we are continuously forging ahead towards that goal.
In an effort to further address the disparities facing women and girls at the intersection of race and gender, we officially launch the Young Women's Initiative (YWI) this spring, centered around the voices and lived experiences of women and girls of color, coupled with reaching beyond our bubble and building partnerships across multiple sectors to increase opportunities for more equitable outcomes for young women and girls of color in the Washington region.
Q: What goals are you working towards at your organization and how do the Be Fearless principles help you achieve them?
A: With the Be Fearless principles, we can affect real change and we're not asking for permission to do it. With #our100days, we've managed to connect with the community through social media and our email database, and we've received real feedback on our action items and work, and have made collective strides to help our Grantee Partners and other community organizations. With #our100days, people can Get In The Arena by doing anything from donating baby clothes to a mother in need, to highlighting women in our communities who have made an impact on our lives.
Moreover, through our YWI, we will initiate policy changes and increase programmatic investments to alleviate the racial and gender disparities placed on women and girls of color in the District. We are in the midst of several convenings with local policymakers, community activists and low-income women and girls of color. Innovation happens at intersections, so making space for these partnerships will help to uncover barriers and identify potential policy solutions as a part of our racial equity and policy initiatives.
Q: What "big bets" have you and the Women's Foundation made, and how have those goals paid off?
A: At The Women's Foundation we are firm believers in the saying, "Don't talk, act. Don't say, show. And don't promise, prove." Our big bet is our public commitment to advance equity for women and girls of color and tackle systemic and structural racism head on so that we can truly advance our mission and ensure that all women and girls in our community have the opportunity to thrive.
Our advocacy agenda is informed by the insights and lived experiences of those who are most impacted. Through our work with #our100days and the development of YWI, we have been engaging our community and seeking their feedback regarding potential solutions that address their most pressing concerns. These solutions serve as the foundation of a larger community action plan, inclusive of a set of recommendations which will inform our advocacy and grantmaking agendas, in addition to identifying potential improvements for current direct service provision and service alignment.
We are solidifying an advocacy agenda, and a list of recommendations that are community-driven and reflect the lives of those most impacted. Through the parallel development of YWI and our advocacy agenda, we intend to create a positive ripple effect across society and ultimately improve the quality of life for women and girls in our community.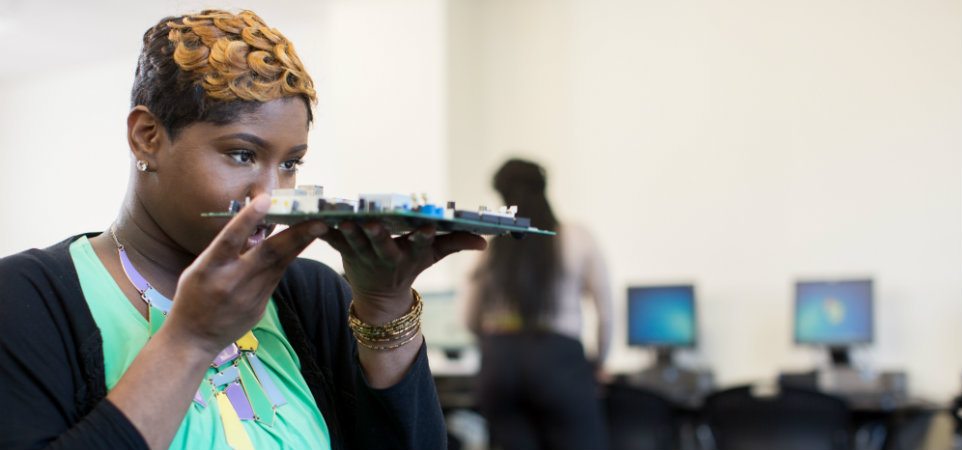 Q: Tell us about a time when your organization let urgency conquer fear.
A: A sense of urgency drives us. Washington, D.C. is one of the most powerful cities in the world, yet 1 in 4 women and girls in the region are experiencing economic instability and this number has remained stagnant for a decade. We know that despite the best efforts of many initiatives, generations of our region's women and girls have grown up in poverty, with little hope of a brighter future—and we can't let this continue.
The time is now for bold and ambitious changes that will eliminate opportunity gaps and structural barriers, directly increasing economic security for women and girls in our region. We are committed to both pilot new methods of philanthropy and community engagement to drive greater philanthropic change, and to advocate for improved policies on behalf of women and girls.
Last year alone, through our research, advocacy and grantmaking initiatives, we reached more than 3,600 women, and helped them increase their incomes and assets by $3.6 million. We will continue this multifaceted approach, using a racial equity lens to build pathways out of poverty for more women and their families. Currently 15 percent of Black women and 15 percent of Latinas living in poverty compared to 5 percent of white, non-Hispanic women.
We will fearlessly tackle racial equity head on to close the economic gap experienced by women and girls of color in the region. With #our100days and the Young Women's Initiative, we will get in the arena and use our voice, our resources and the community we have created to remove the barriers women and girls of color face.
Feeling inspired? If you're ready to begin your own Be Fearless journey start by downloading our free Be Fearless Action Guide and Case Studies.