This Spotlight is a part of a special blog series by the Case Foundation featuring Be Fearless stories from the field. Follow along with us as we meet people and learn about organizations that are taking risks, being bold and failing forward in their efforts to create transformative change in the social sector. This Spotlight is authored by Katrina Boratko, Communications Manager at Mama Hope.
Mama Hope was built from love. In 2006, our founder Nyla suddenly lost the person closest to her in the world—her mother Stephanie. While she was ill, Stephanie and Nyla made plans to travel to Kenya and meet a young man she had helped sponsor through school and corresponded with since he was a boy. Unfortunately, Stephanie was never able to make that trip; but in a twist of fate Nyla was posted in a United Nations placement near to his village soon after her mother's death. When she arrived, Nyla was greeted by the whole community singing Amazing Grace and holding a service for her mother. As it turns out, Stephanie had done more than just sponsor one boy. She had been holding small fundraisers in the living rooms of her Marin, CA, friend's homes to help support a women's business group in the community. Nyla learned that the humble investment she made from afar had truly transformed the lives of the women, their families and the whole community.
When the money Stephanie raised was put into the right hands, a small investment made a huge impact, the likes of which Nyla hadn't seen working at government organizations and multinational NGOs. That day she learned the first rule of Mama Hope: the communities we work with know what they need and our biggest job is to listen. Nyla decided to take her love for her mother and build an organization that listens—Mama Hope. Love is the common connection that runs through everything we do; from our partnerships to our Global Advocates to our Stop the Pity campaign. To us, to Be Fearless is to choose love over fear, disconnection, apathy and hate.
Working from a place of love comes with its own unique set of risks. Every day we make huge bets on the power of connection and the value of human capital. We believe that every human has the capacity to become a global leader, regardless of his or her birth—and we treat everyone in our sphere according to that belief. When Mama Hope connects with a community leader, our first questions are: "What is your vision?" and "How can we support you in achieving your goals?" We then align our team and resources. We have built a relationship of mutual trust and true respect with all of our partners, and we credit this relationship for all of our successes.
In 2011, we experimented with a new approach to scale the reach and impact of the program—we introduced a Global Advocate Program (GAP). The GAP is a rigorous nine-month training program for social entrepreneurs. Our Advocates each commit to raising at least $20,000 for a sustainable project initiated by one of our partner communities, and they travel to the field to live and work directly with our partners to help bring the projects to life. We take a risk with every Advocate we train—investing money, training and staff time into an individual with the expectation that they will rise to the fundraising challenge and open their hearts to our partners. This risk has reaped massive rewards: since 2011, we've worked with 64 Advocates who have raised over $1.3M to fund over 60 projects that, working in tandem with local experts, employing local builders and using local resources, have improved the health, education, food, water security and livelihoods of over 150,000 people in Kenya, Tanzania, Uganda, Ghana and Guatemala.
We are not building projects that will only help people get from one day the next, but that will help our partner communities thrive for generations. And beyond the impact numbers above, there is a much deeper ripple effect in communities that grounds our work and was brought to life in a fabulous chalkboard drawing by a staff member in our Queen Elizabeth Academy (QEA) partnership in Mlali, Tanzania.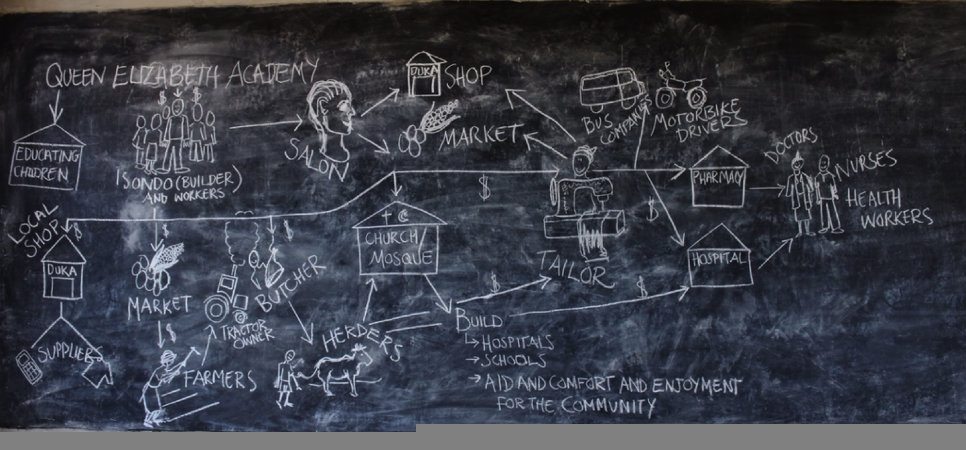 "Our benefits aren't easily seen right now, like they would be if someone came and said "here, take these clothes" or "take this money", and you took them. We don't give things out like this because our primary focus is giving education to these children. Later, they will be employed and they will return that benefit here, just like Kilines (the founder & director of QEA) did. She wanted to help her own community. The benefits of her education have returned home, and many people have felt them. And when these children study with the education that they get here, later when they find work they will also return that benefit home. One might start a health center, another might start some kind of industry and employ many people, another might start something else. You can't do this without education. This school is producing something with benefits that will last from generation to generation."
Mama Hope's goal is to eliminate global poverty through inclusive entrepreneurship and by creating a global network of organizations bound by collaboration. We think that many organizations and companies are too restricted by their silos: nonprofit, for-profit, brands, media, grassroots, multi-national and community-based. We believe that we will see true change in this world when we all reach beyond our bubbles and work together across cultures, borders, profit margins and mission statements. We believe that when we focus on what makes us similar over what makes us different and hold each other's dignity in the highest regard, we can shake off the ropes of competition and ego that hold us back. We believe in the power of an individual to change the world, and we believe every person can—and must—in order for us to rebuild a thriving planet. We believe that all of this is only possible if we are fearless with our love.
Feeling inspired? If you're ready to begin your own Be Fearless journey start by downloading our free Be Fearless Action Guide and Case Studies.