With UNC and Villanova duking it out for the men's NCAA Championship, and Connecticut and Syracuse set to face off in the women's playoff bracket, so too have we come to the end of our own March Madness. Over the last ten days you've played along with us as we sparked #InnovationMadness and directed the social media spotlight on 16, then eight and then four female innovators who have made big bets and made history. Thank you to everyone who voted throughout #InnovationMadness and helped to shine a light on the incredible accomplishments of these innovators.
Today, we're ready to reveal the woman who inspired you the most with her story of perseverance and ingenuity: Marie Van Brittan Brown.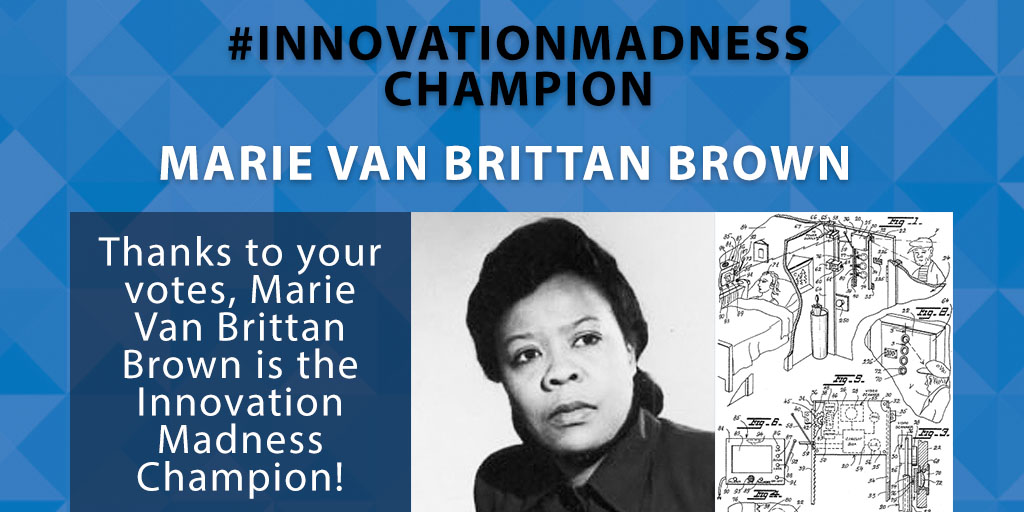 #InnovationMadness10: Marie Van Brittan Brown, creator of the home security system
Chosen by Jade Floyd, Senior Director of Communications
Today's home security systems feature all the bells and whistles, from infrared cameras to home automation technology to electronic control of every light and lock. But did you know that the first modern-day home security closed-circuit television system (CCTV), alarm and entry buzzer to allow guests in was invented by Marie Van Brittan Brown in 1966? An uptick in crime in her neighborhood drove her to create the system so she would feel safer while at home alone. She invented the remote monitor and control-operated door that laid the groundwork for a now multi-billion dollar market, and she takes the championship place in our bracket today.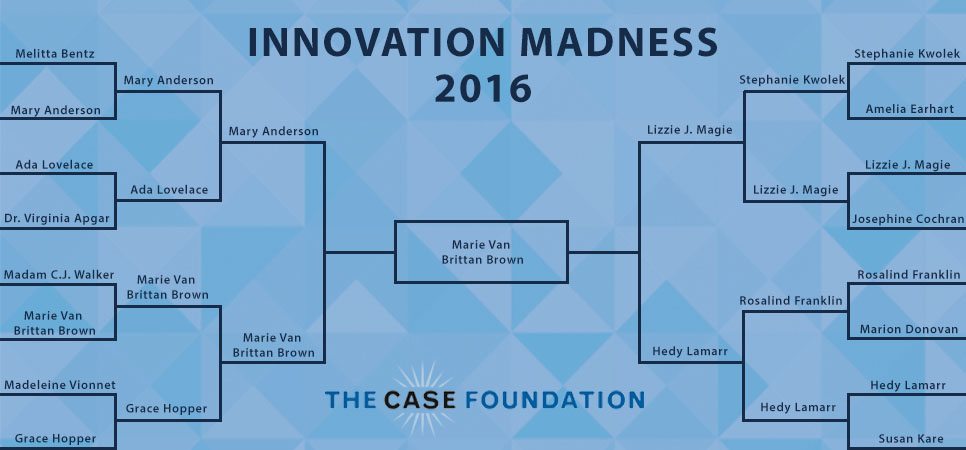 Marie Van Brittan Brown may be the overall winner here, but the 16 women we highlighted represent the countless other woman around the world who have, and continue to, break barriers, forge new pathways and ultimately create a better tomorrow for all of us as a result. "You can't be what you can't see," and as we look for ways to lift up an inclusive and diverse set of entrepreneurs, we hope that #InnovationMadness has inspired you to think about how you can help level the playing field for all entrepreneurs—particularly women and people of color—in all places in order to create stronger communities, close the opportunity gap and scale creative solutions to persistent problems.
Learn more about the Foundation's inclusive entrepreneurship efforts.